February 11, 2019 | Posted in Public Gigs
Blake's Heaven are putting on a show in the Wallingford Corn Exchange – a lovely, volunteer-run theatre, cinema and live music venue in the market town of Wallingford.
The show will feature music throughout the years, from the early 1800s to the modern day, all arranged by the hugely talented Nicholas Blake. Expect everything from classical waltzes, through jazz standards, with diversions via TV themes and a few rock and pop surprises along the way!
I'm honoured to be a regular player with these amazing musicians and I'm really looking forward to this show!
Tickets are available from the Corn Exchange website, click on this link to choose your seats now.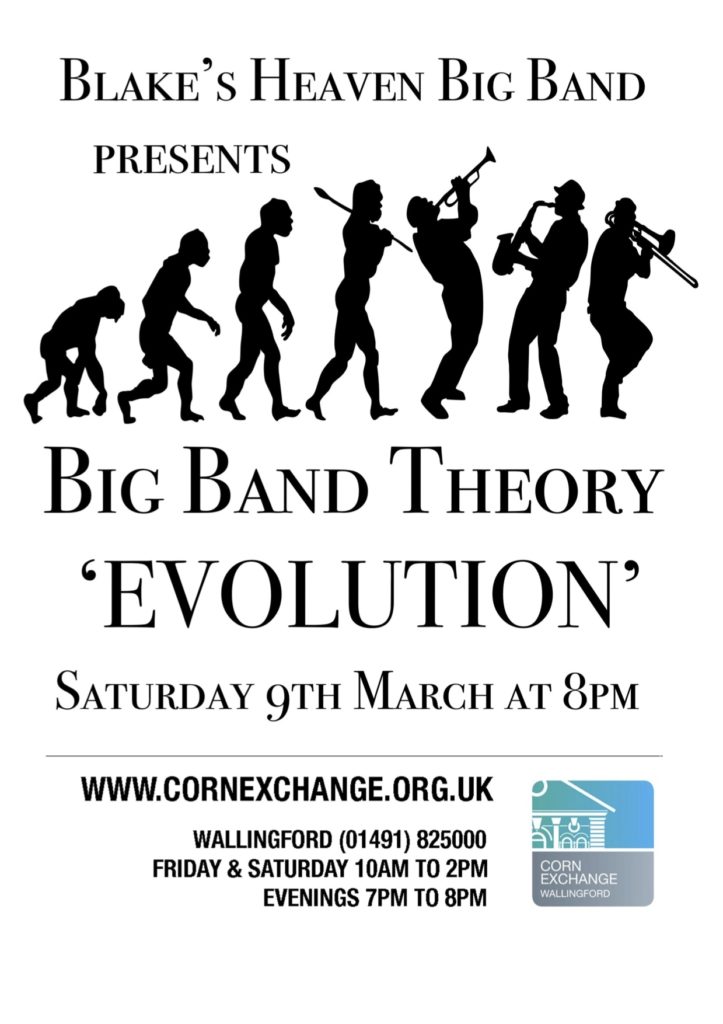 May 30, 2018 | Posted in Bands, Public Gigs, Space Elevator, Touring
We've been spending the last couple of weeks touring the new Space Elevator album (Space Elevator II) and the new material has been going down very well. Spending long hours in a van together has reminded me how much I love the people in this band – and the gigs have been getting better and better!
As I write, we're coming to the end of the second leg of the tour, with only Oxford Bullingdon (31st May), Leo's Red Lion Gravesend (15th June) and Cambridge Rock Festival (29th July) still to play.
There are more dates on the horizon, but nothing I can put into print yet! Instead, you'll have to make do with a picture of Brian eating a sandwich.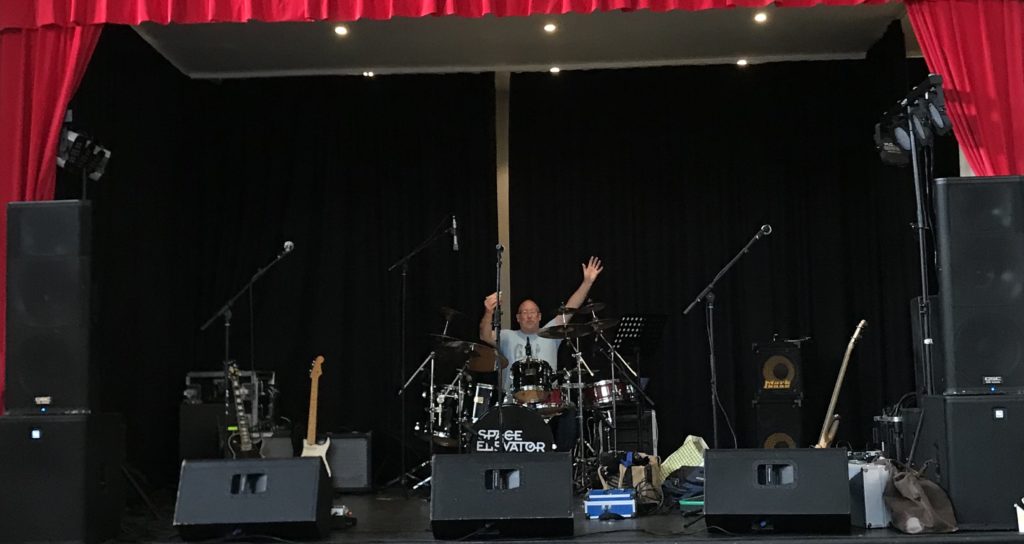 April 16, 2018 | Posted in Bands, Public Gigs, Recording, Space Elevator
Just a quick one – the second Space Elevator album is being released on SPV/Steamhammer on 25th May 2018. Chuffed to bits with how it sounds and looks, and really looking forward to touring the album in the next couple of months! It's taken a little longer than we'd hoped, but there have been a lot of developments which will be good for the band in the long run, so we think it's been worth the wait…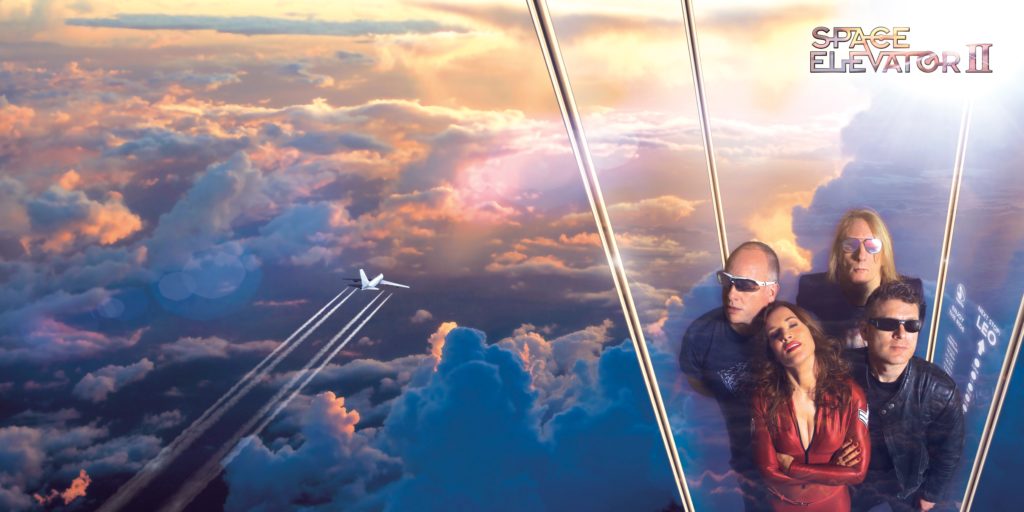 April 11, 2018 | Posted in Bands, Beelzebozo, Mook, Sneaky
Having done a bit of interweb work in my previous life means I've ended up responsible for a lot of bands' websites. In the (slim) likelihood of anyone being slightly interested in seeing them, I've archived some of these old websites here.
I've only bothered with the original bands, and I fully expect these to be of interest to a very small number of people (mostly members of the relevant bands) but present them here just in case it gives someone a laugh…
Beelzebozo – Slack-stringed sleaze-metal merchants (2005 – 2012 ish)
Mook – The earlier, slightly larger, slightly louder version of Beelzebozo (1997 ish – 2004)
Sneaky – Electronic, little bit dance, little bit funk – about the same time as Mook (1997 – 2003)
(The amount of unnecessary detail that went into the Beelzebozo website is staggering…)
January 31, 2018 | Posted in Bands, Blake's Funk, Recording
More recording, this time with the Blake Shake funk outfit. Bandleader Nick was showing me the finished mix of the album and it does sound very cool indeed – looking forward to this one being released early this year!
We were fortunate to have a couple of guests on the album, although I don't know if I can say anything yet!
January 10, 2018 | Posted in Bands, Recording, Space Elevator, Studio
We've been and gone and done another album!
Space Elevator II has been finished, and we're in the process of getting the physical copies made… very exciting! It'll be available on CD, vinyl and as digital download via the ol' iTunes, hopefully very soon…
The recording process was a couple of days in April last year at Kore Studios in west London, where we recorded the drums and bass along with guide guitar and vocals, then the rest of the recording was a mixture of several different locations over the summer in a couple of private studios we know – vocals were done in Welwyn Garden City and the guitars in Marlow.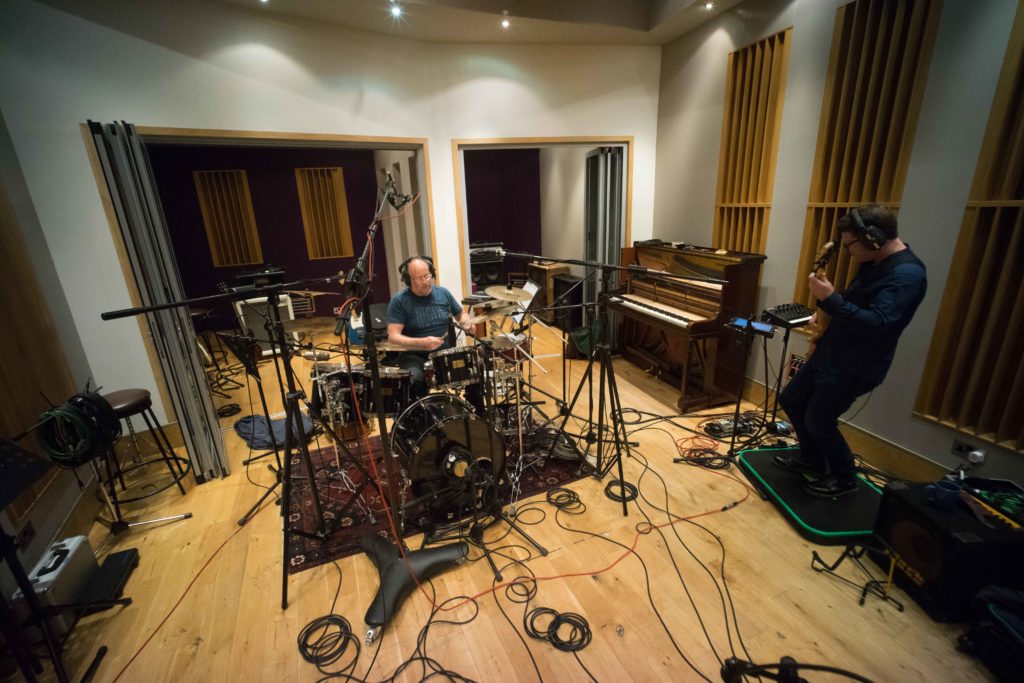 It was the first recording I'd done with my new bass platform monitor and loved the feel of a big bass sound but with the control of very little in the way of "noise", useful both when in the room with the drums and when doing a couple of overdubs later in a different studio. As I was taking a DI out of the back of my amp and my settings are very easy to recreate it means my bass sounds identical wherever the recording was done.
The recording, mixing and mastering is all completed now, and we're just waiting for the go-ahead to announce the release date – keep an eye on the Space Elevator website for more news as soon as we know!
May 12, 2017 | Posted in Bands, General, Hints and tips
I've bought a new toy. It took me about 2 years to get round to it, but once I'd tried it out I knew it was the right thing to do!
It's not a Star Trek teleporter, nor is it a one-man bass riser, it's a very cool monitoring system that, when you stand on it and play, transmits the sound of the bass through your bones and into your ears. Yeah, I know, it sounds ridiculous but now I've used it on a few gigs I don't want to ever be without it.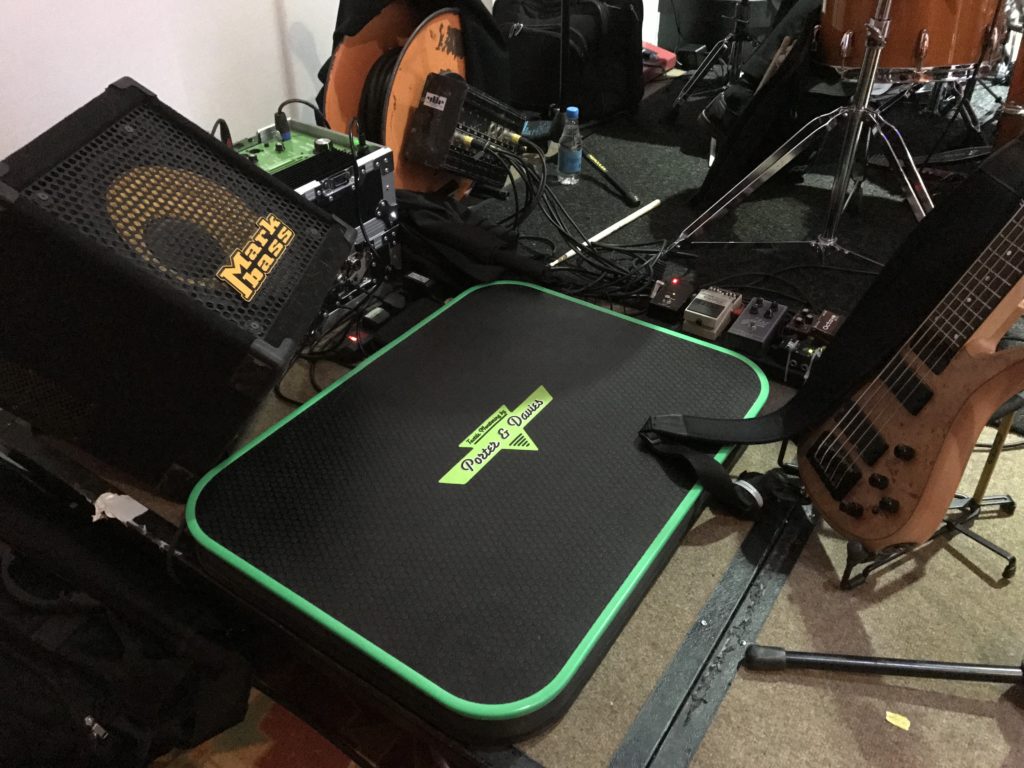 I first heard about this type of system because a few drummers I know use the drum stool/throne version. Drummers usually like a lot of kick drum in their monitor, but this can be hard to achieve on some stages, especially with so many bands using in-ear monitoring. I saw this stool being plugged into a green amplifier and had to ask what was going on.
"Put your earplugs in, sit there, and use the kick pedal" said the drummist. So I did.
Really surprisingly, I could hear a really nice, fat, but crisp bass drum right in my ear.
"…they also do one for bassists" he said…
It took me over 2 years to finally decide (the whole system is about as much as a decent bass amp, so not something you'd buy on a whim) but I went down to Porter & Davies and tested one out. A few minutes playing bass while standing on the platform and I was convinced.
I've used it on every gig since I bought it, and I've also used it in the studio when recording with Space Elevator – the difference between just hearing the bass in headphones and feeling it in your body, your ears and even in the strings is like standing in front of a huge bass rig, but without everyone else in the room shouting at you to turn down. When recording, I was able to set up in the live room with the drums, and feel like I had the amp cranked up, but with hardly any noise in the room (amp volume was off, just using it to get the sound DI from my amp and into the desk)
The feeling on the strings is the most surprising – the strings feel really "live" in your fingers, and this means you can play with so much more dynamics, because you can feel and hear when you are playing loudly. Want a bit more dynamic range in your playing? Dial up a little more Master Volume and you'll play with a lighter touch. As I can be a little heavy handed, with a tendency to "dig in" (blame my formative years in heavy rock bands!) this is a real bonus for me.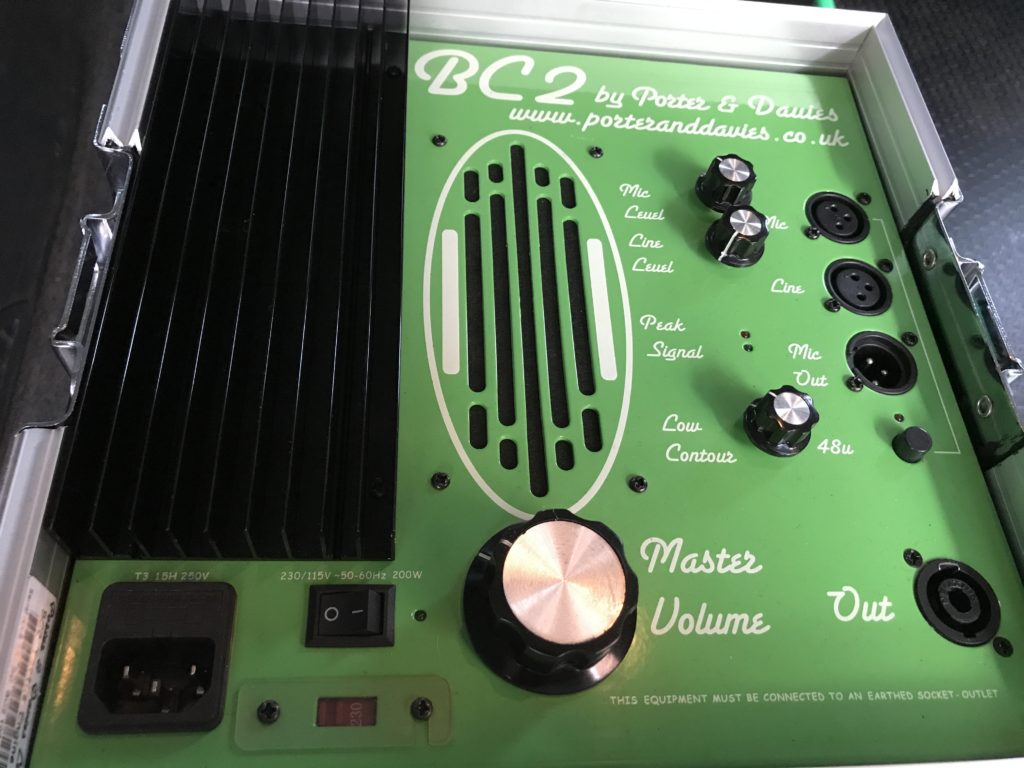 If you've been used to massive volume on your amp, but bandmates keep wanting you to turn down, or if everyone is switching to in-ear monitors and you now struggle to hear your bass through those tiny little speakers in your ears, this is a good place to look for an answer.
I don't know how well it would work without earplugs or in-ear monitors (I ALWAYS use earplugs), but for me it's been bloody brilliant!
There are only three downsides I've found so far:
One more trip to the van on load in/load out
You do have to occupy a definite area on stage (on smaller stages this might actually be a bonus as you save yourself some room that nobody else can pinch off you!) – on larger stages I would use my bigger amp to make the area near the drums vibrate, then have the platform set up in front of the mic, so you've got two "sweet spots" where the bass really throbs
It's a real talking point when you set up – everybody wants to know what it is, what it does, and can they try it (you might like the focus being on you, but I didn't choose bass as my instrument to be the centre of attention!)
It's still brand new, and isn't even in the Porter & Davies online shop at the time of writing, but they can supply the platform if you contact them, and you can visit them to try before you buy.
November 30, 2016 | Posted in Bands, Public Gigs, The Missing Persians
Just finished a nice little tour with The Missing Persians, the bluesy americana type band I play with. We first toured the Netherlands in 2015 after a Dutch musician/promoter saw us playing at an Oxfordshire festival (one of our first gigs) and we had a great time and couldn't wait to go back.
This time we had four gigs over 6 days, so not particularly gruelling, but we still covered a fair few miles in the trusty band van. I've been to the Netherlands a number of times, both for holidays and for music, and I've always found the Dutch to be a particularly lovely nation – and they speak such good English it hurts!
We played a variety of venues (the rock pub with the DJ playing music so loud that our fillings were rattling while we were setting up was a bit nervewracking!) but all gigs went down well and we sold some CDs and made some new friends. Touring a relatively unknown band can be a risk/folly/quick way to lose money, but both Persians tours managed to return a profit after all the expenses were covered, and have been a lot of fun!
Next year we'll be concentrating on the UK and are working on securing a few more festival gigs, so let's hope we get some nice summer weather in 2017!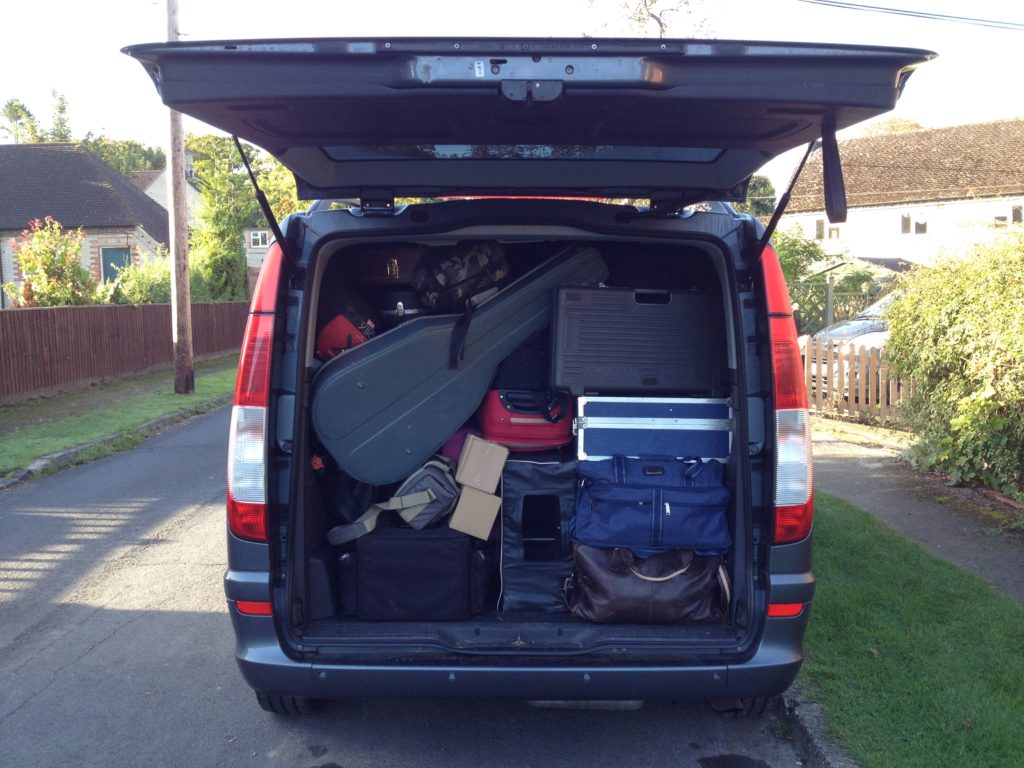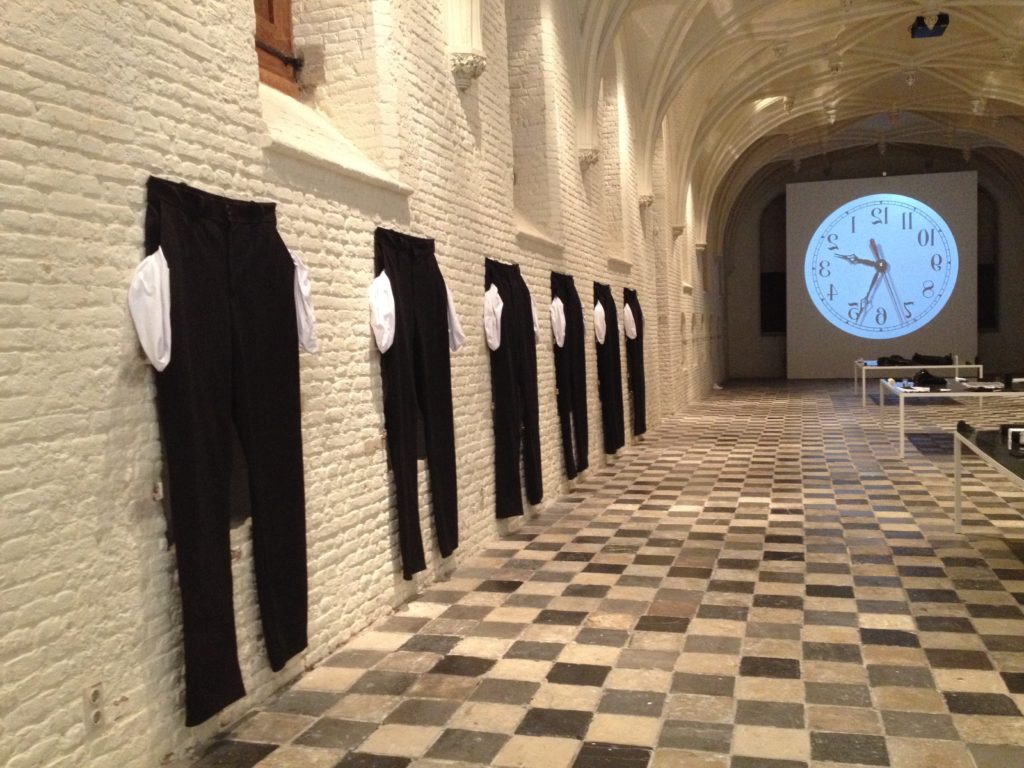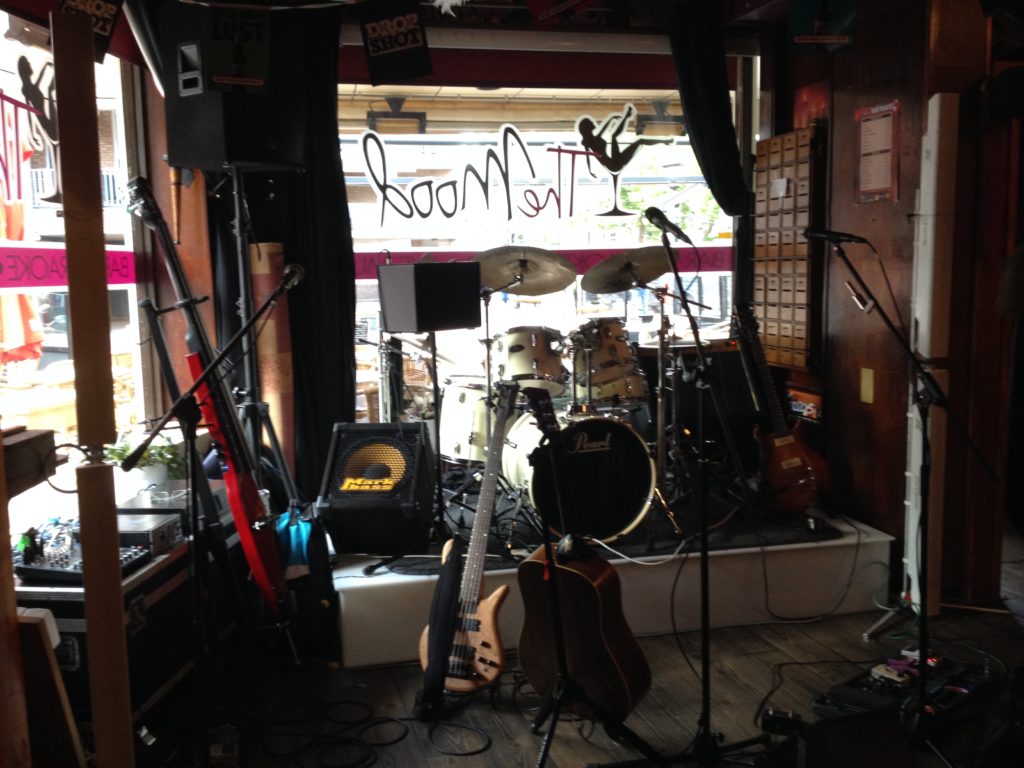 December 10, 2015 | Posted in General, Hints and tips, Recording, Studio
As part and parcel of being a musician these days, you seem to need to do so much more than just play music. You need to understand marketing, social media, website maintenance and management, and (certainly if you use a DAW – home studio recording system) you need to be your own IT support team. This post is about the trouble I had connecting my MacBook Pro to a Dell Ultrasharp U2412M Monitor.
I recently retired my ageing iMac and replaced it with a shiny new MacBook Pro (MBP). It was the best computer I could afford (and I'm not really sure I could afford it – no doubt my accountant will tell me later) and it should last me for many years to come.
Much as I loved my iMac, it had become slow and I think the constant updating and improving of the software I wanted to run on it had managed to stretch it past its original design specifications. The MBP is much more powerful, faster, with much more "disk" space (it's actually got a solid state drive, but let's not get caught up in that) so I was very happy with the purchase.
One thing it had a lot less of was screen. My iMac had a 20″ screen while the MBP has only a 15″ screen. This meant I needed an external monitor to give me enough room to work. A "Retina" screen (something about twice as many pixels – basically very high quality display) on the MBP means that only certain monitors would work with it. This is frustrating and not least because the Apple external monitor costs hundreds more pounds than I have left…
So I did some research and found a good recommended external monitor is the Dell Ultrasharp U2412M It's about £180 and various MacBook Pro users had recommended it online, despite it not officially supporting Apple computers.  So I found one on eBay (the seller included the cable they had used to connect it to their MBP, so I thought I had everything I needed.)
The Problem
The monitor turns up a few days after I bought it and I plug it in using the supplied lead (Thunderbolt to DisplayPort) and off I go. Doesn't look quite as crisp as I'd hoped, but it works. After a few hours of using the monitor I realised that the screen was occasionally going black for about 2 seconds, then coming back on. I carried on with what I was doing and made a note to look it up.
The very next job I had to do required me to use the PC which the Missing Persians were recording on, and that doesn't have a monitor – so I used the Dell screen and it worked perfectly (using a VGA cable) so I started to think it was my Mac at fault.
Next time I went to use the Mac the screen had also started showing horizontal dotted lines – sometimes these would be about a pixel deep and dart across the screen (left to right) and sometimes they'd be a band of dots reminding me a little of when the tracking needed adjustment on your VHS video. Searching for all those symptoms brought back a load of results suggesting faulty video cards, motherboards, whole heaps of expensive stuff. This wasn't looking good.
I contacted Apple support – after a series of tests on my Mac (no problems found) they recommended I spoke to Dell.
I contacted Dell support – they suggested a series of tests on my monitor (no problems found) then recommended I spoke to Apple.
I tried several different cables and adapters to go from HDMI > VGA (laptop screen goes blank, then Dell monitor says "No Signal – Entering Power Save Mode")
I'd also tried several different monitors I had lying around (is there anyone who doesn't end up with a load of useless computer junk in the house?)
The Solution
Eventually I stumbled across the answer – a Macbook user had found that the cable he was using was faulty and another suggested that when he used a genuine Apple one he found it worked. I couldn't get a "Genuine" Apple cable but on the Apple website I bought an HDMI > DVI-D lead made by Belkin – it was a bit of a guess, there were two different types of cable I could have tried and I just picked one.
Fortunately for me, the monitor now works very well!
It's a shame that the Mac is too fussy to work with any old monitor (like most PCs I've used will) but maybe that's progress. I haven't bought a high-end PC for a while so I can't comment on what problems exist there. It's also a shame that the Apple recommended monitor costs about as much as a second hand car. But I know Apple products have always been expensive. I also know that iPods and the like are really funny about what cables they will charge from or devices they will connect to via third party USB leads. I offer no comment on why this might be.
I'm just hoping this post can be useful if anyone else is in a similar situation!
December 10, 2015 | Posted in Bands, Hints and tips, Recording, Studio, The Missing Persians
I started writing this post when we'd booked some time together to begin recording the Missing Persians second album – I then saved the draft.
I'm typing the text you're reading now when we're about halfway through the recording process. We're doing it slightly differently this time, but still recording it ourselves and still using Reaper (I'm actually a Cubase man, but Reaper was chosen as a lower cost option which would allow us to take a PC to our own houses to record individual parts without me having to give up my main computer, or getting everyone in the band to invest in Cubase!) Reaper has some idiosyncrasies which I'm not sure I like, but all in all it works quite well.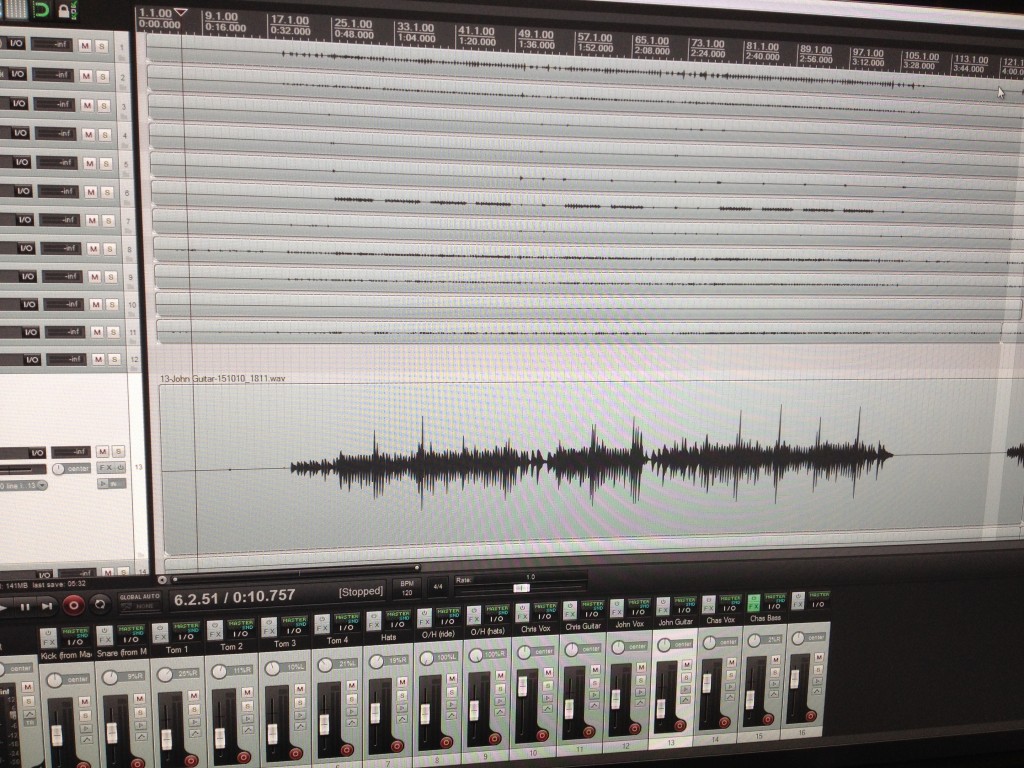 Learning from our previous experience…
Last time we recorded pretty much everything live except for guitar solos and vocals – but as we didn't have enough inputs on our sound interface we mixed drums down to a stereo track before going into the computer. This worked OK for most songs, but one or two were discarded due to problems with the drum mix which we obviously couldn't do anything about afterwards. We also had a certain amount of bass and guitar spill on the drum tracks which wasn't ideal. When I came to mix we had to lose a number of good recordings due to missing a crucial problem with drum sounds or a balance issue, so this time I wanted to do it slightly differently.
We still wanted to keep it as live as possible to capture the feel of the band, but we also wanted the flexibility to fix errors and change our minds about things after the event. So we compromised a little – this time we managed to get all the drum tracks on separate channels (to help with mixing) and we only recorded bass and drums together, with guide guitar and vocals captured on lower quality line in channels (just so we had some sort of context for overdubs.)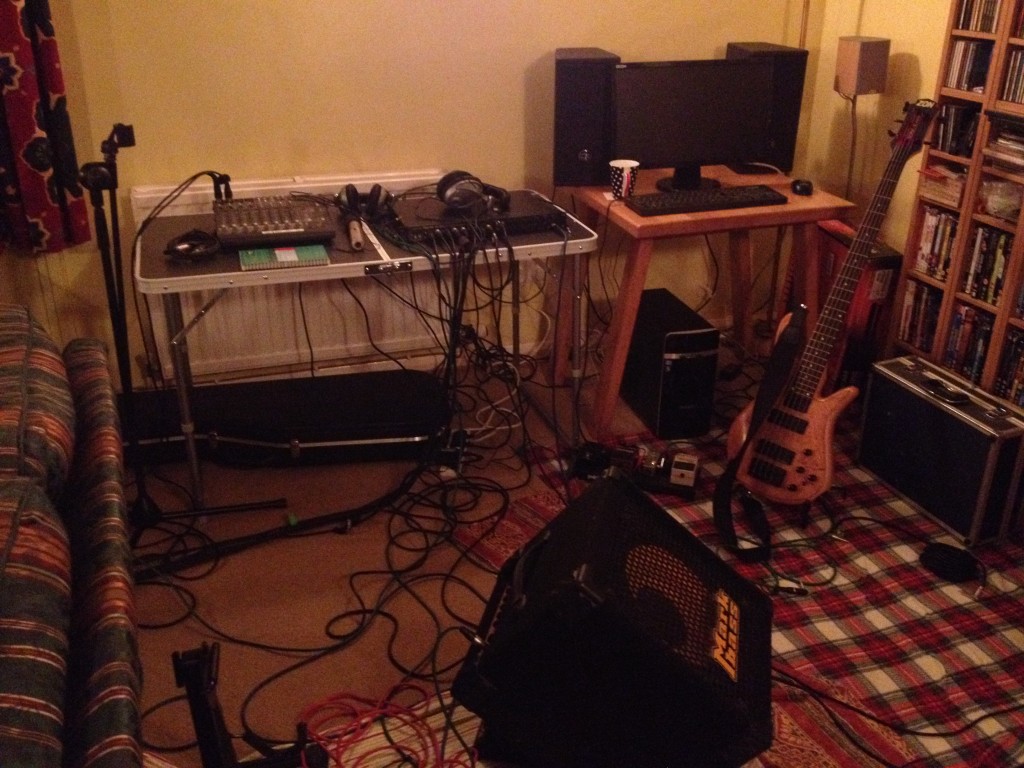 We used the sofa as a sound barrier to avoid hearing bass guitar on the drum tracks. Bass was DI'd out of the back of the amp, so no spill the other way round. The output from John's effects was plugged directly into a Line input and we only used it for a guide. We'll capture the sound of John's amp when he overdubs later.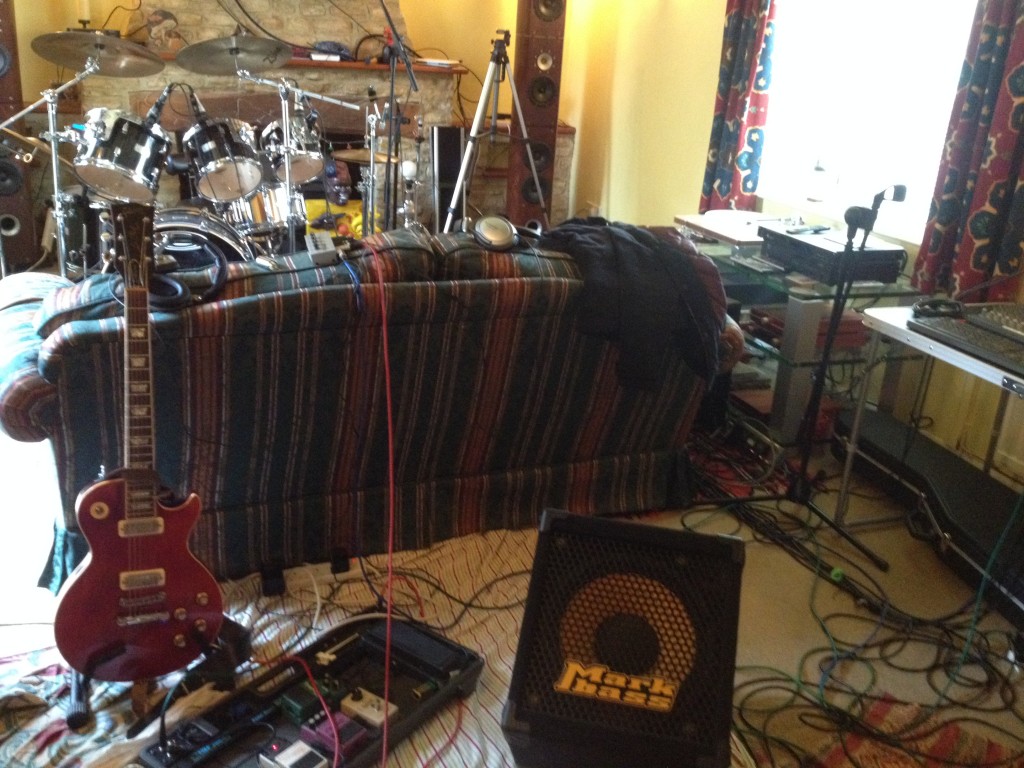 Recording the acoustic guitar separately also gave Chris chance to recover from his broken wrist – sustained on the last day of his holiday shortly before we started recording the album (you can see him manfully struggling on despite being hampered by the cast in the photo below!)
The glass door in Nick's house was perfect to allow us to keep eye contact but keep separation so no acoustic guitar (that loudest of instruments!) spilled onto the drum tracks…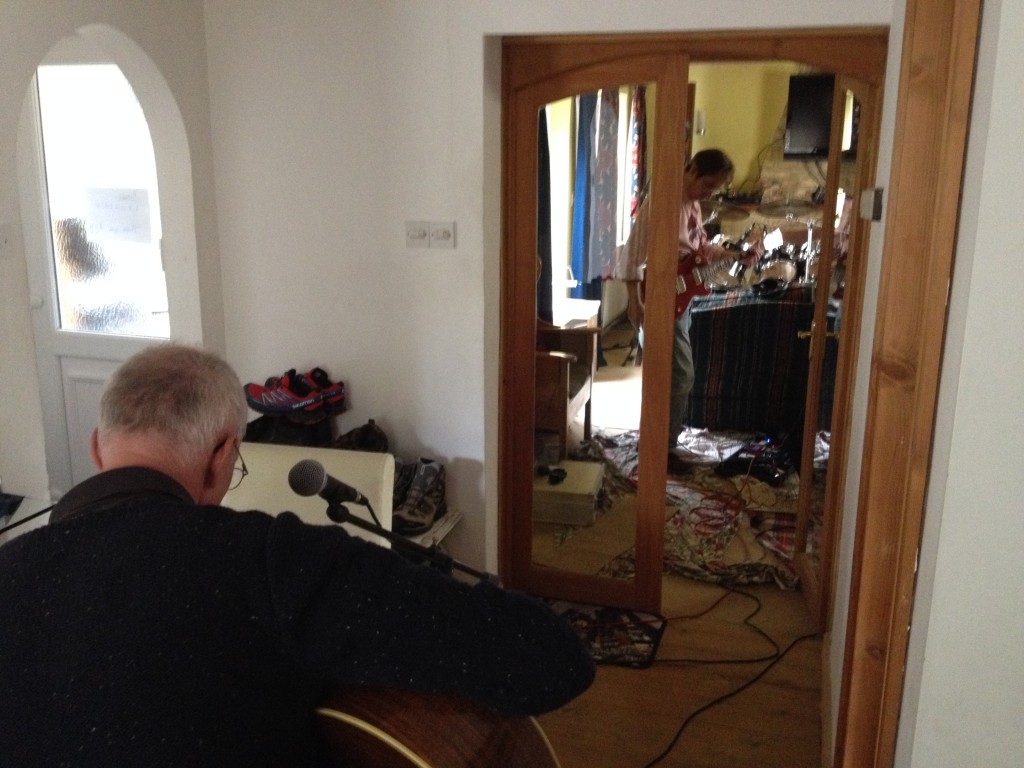 This process is working well so far – we recorded bass and drums at our drummer Nick's house, and then Chris has taken the PC and is recording his vocals, acoustic guitar and mandolin at his own pace (now that the cast is off he is finding this much easier!) Electric guitar and vocals are being added in the coming weeks.
Based on what we've recorded so far it's coming along well. We recorded 19 songs in total and will choose the best dozen or so to create the finished product. It will be available via our website the Missing Persians Bandcamp page (copies of our first album can also be purchased here)