December 10, 2015 | Posted in Bands, Hints and tips, Recording, Studio, The Missing Persians
I started writing this post when we'd booked some time together to begin recording the Missing Persians second album – I then saved the draft.
I'm typing the text you're reading now when we're about halfway through the recording process. We're doing it slightly differently this time, but still recording it ourselves and still using Reaper (I'm actually a Cubase man, but Reaper was chosen as a lower cost option which would allow us to take a PC to our own houses to record individual parts without me having to give up my main computer, or getting everyone in the band to invest in Cubase!) Reaper has some idiosyncrasies which I'm not sure I like, but all in all it works quite well.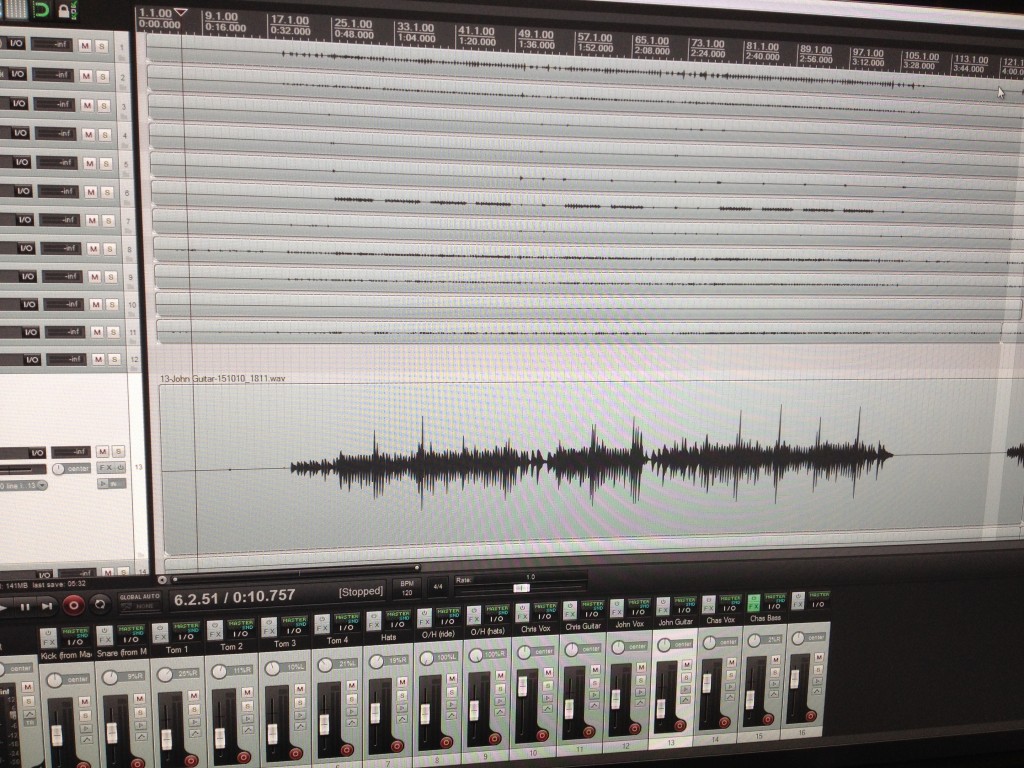 Learning from our previous experience…
Last time we recorded pretty much everything live except for guitar solos and vocals – but as we didn't have enough inputs on our sound interface we mixed drums down to a stereo track before going into the computer. This worked OK for most songs, but one or two were discarded due to problems with the drum mix which we obviously couldn't do anything about afterwards. We also had a certain amount of bass and guitar spill on the drum tracks which wasn't ideal. When I came to mix we had to lose a number of good recordings due to missing a crucial problem with drum sounds or a balance issue, so this time I wanted to do it slightly differently.
We still wanted to keep it as live as possible to capture the feel of the band, but we also wanted the flexibility to fix errors and change our minds about things after the event. So we compromised a little – this time we managed to get all the drum tracks on separate channels (to help with mixing) and we only recorded bass and drums together, with guide guitar and vocals captured on lower quality line in channels (just so we had some sort of context for overdubs.)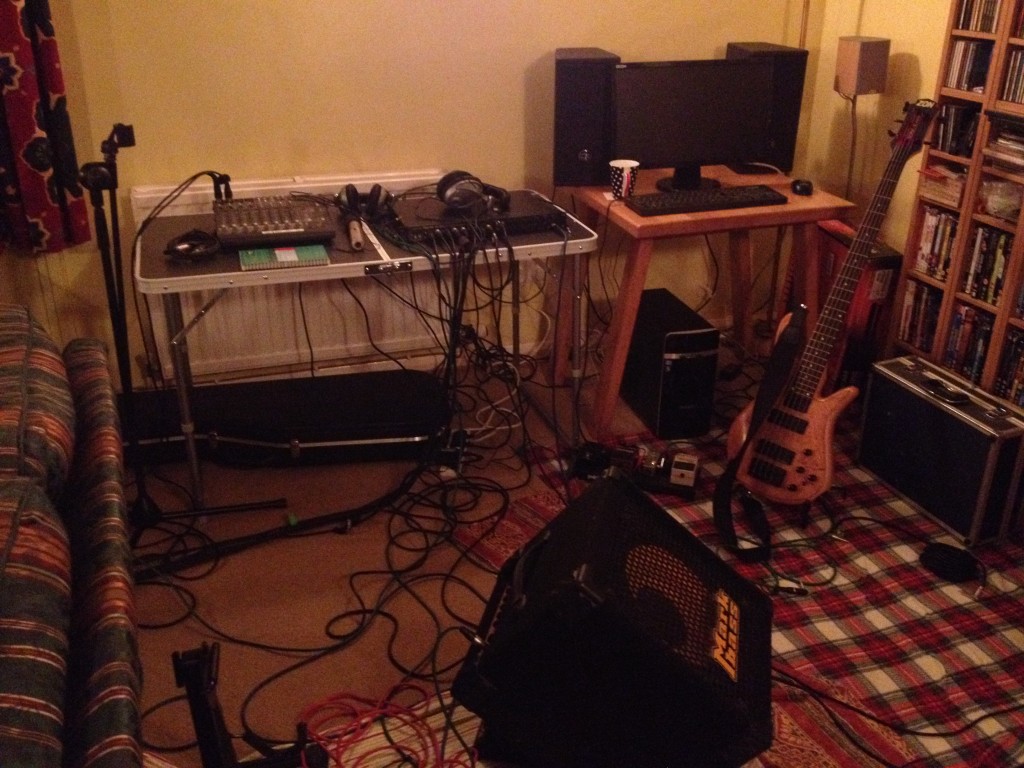 We used the sofa as a sound barrier to avoid hearing bass guitar on the drum tracks. Bass was DI'd out of the back of the amp, so no spill the other way round. The output from John's effects was plugged directly into a Line input and we only used it for a guide. We'll capture the sound of John's amp when he overdubs later.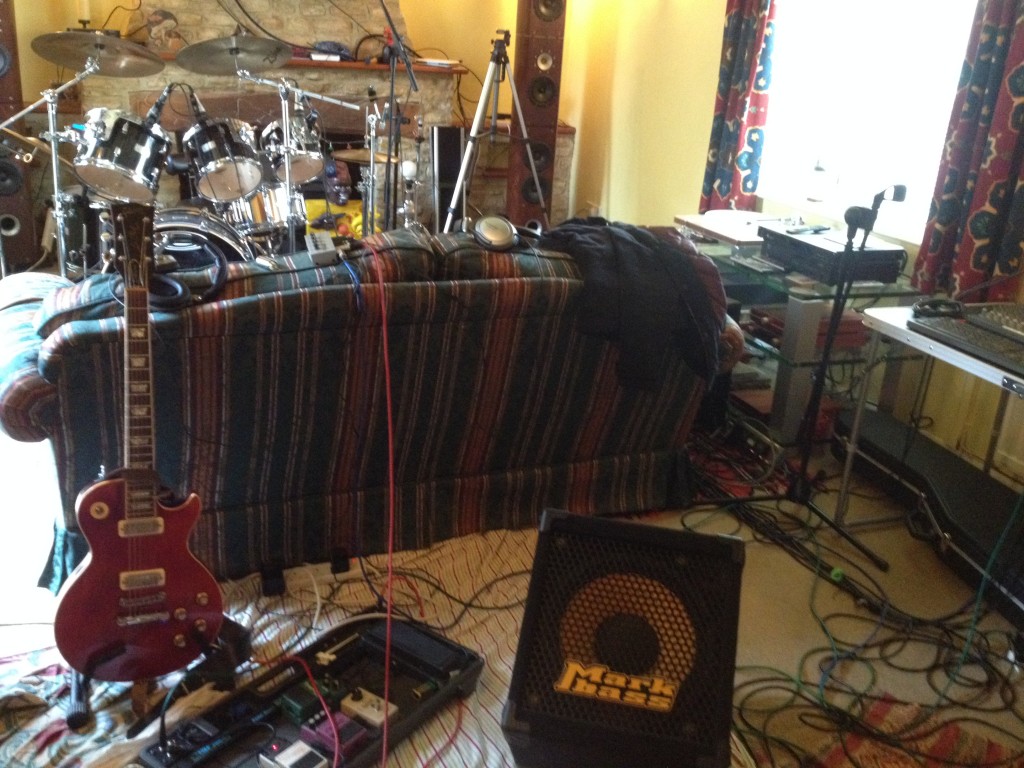 Recording the acoustic guitar separately also gave Chris chance to recover from his broken wrist – sustained on the last day of his holiday shortly before we started recording the album (you can see him manfully struggling on despite being hampered by the cast in the photo below!)
The glass door in Nick's house was perfect to allow us to keep eye contact but keep separation so no acoustic guitar (that loudest of instruments!) spilled onto the drum tracks…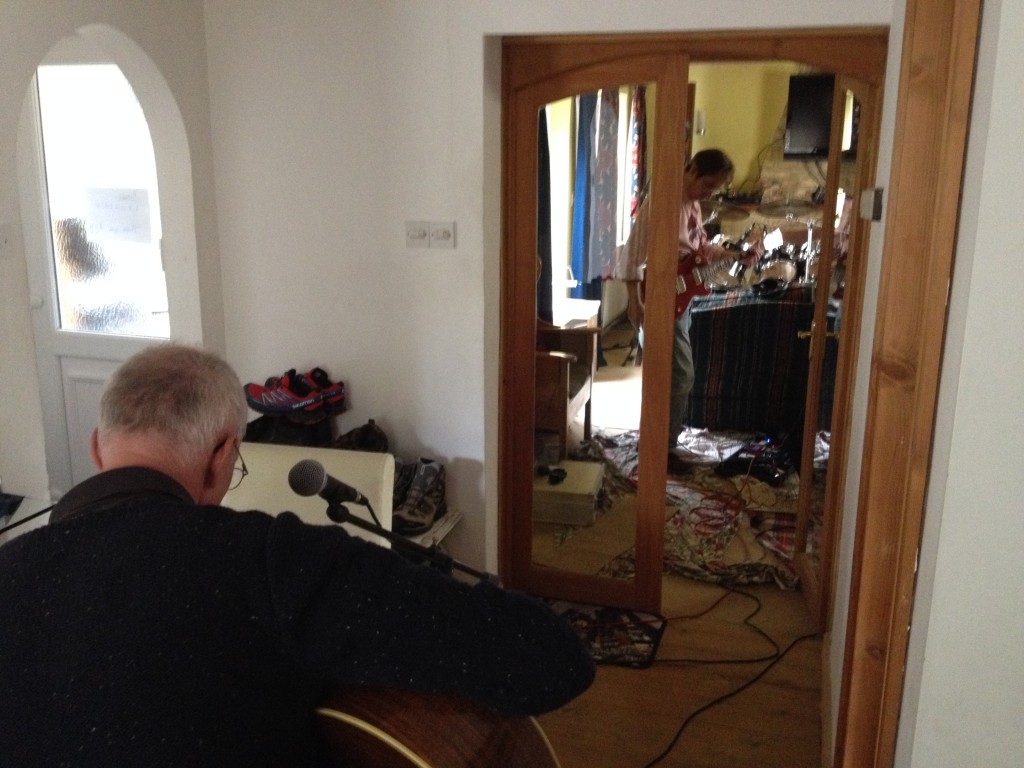 This process is working well so far – we recorded bass and drums at our drummer Nick's house, and then Chris has taken the PC and is recording his vocals, acoustic guitar and mandolin at his own pace (now that the cast is off he is finding this much easier!) Electric guitar and vocals are being added in the coming weeks.
Based on what we've recorded so far it's coming along well. We recorded 19 songs in total and will choose the best dozen or so to create the finished product. It will be available via our website the Missing Persians Bandcamp page (copies of our first album can also be purchased here)
November 3, 2015 | Posted in Bands, Recording, Studio, We Are Puppets
This is really new (we've only had the name "We Are Puppets" for a couple of weeks) while also being quite old. It takes over where Beelzebozo left off, seeing as it's three of the 'Bozos recording a similar noise but utilizing more technology. Writing in the studio at the moment – once we have a set together we'll learn how to recreate it live(!)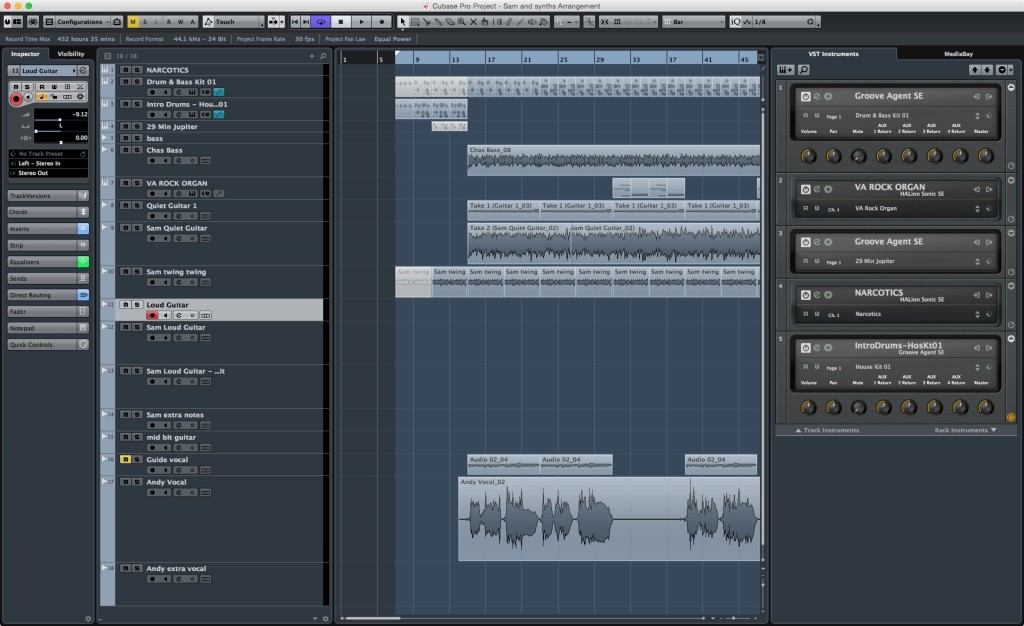 It's a very different way of writing for us, as previously we've jammed in the rehearsal room and songs have formed organically and (usually) quite quickly, while Mike (our previous singer) used to improvise lyrics and melody over the top. This sometimes meant we'd be gigging songs before he'd have a chance to actually write any lyrics, but who listens to them anyway, eh?
Now, all three of us are recording ideas in Cubase, then bringing them together to work on collectively. It's got a sound familiar to anyone who heard Beelzebozo (both of our audience should certainly recognise the vibe) but with some new elements which we find quite exciting. Hoping to start gigging soon…
August 20, 2015 | Posted in Bands, Space Elevator
I've been doing some more gigs with Space Elevator and and feeling a little more like a fulltime member of the band now that we've got our first recording session booked for new material. Exciting stuff!
August 20, 2015 | Posted in Public Gigs
Most recently one of my old bands have got together to rehearse for a one-off gig on Saturday 5th September. We've been Beelzebozo for quite some time now but we stopped gigging a few years ago, tried to find a new member when our singer left, floundered about for some time before deciding to stop altogether and start something new. Within days of making that decision we'd been asked to reform for a gig with another Oxford band who've got back together for a one-off: Black Candy will also be playing and lending the event a little more class. We used to gig with these guys a lot years ago, so it will be good to relive the old days one more time.
The gig will be at the site of most of Beelzebozo's gigs – the Wheatsheaf in Oxford. Tickets are officially sold out, but if you know me personally give me a shout; I may be able to lay hands on one or two…
July 20, 2015 | Posted in Bands, Blake's Funk
Recently I've been doing some gigs with the Blake's Heaven's funk offshoot – still not sure exactly whether there's an official name yet but Blake's Funk Project seems to be the favourite contender so far. After an initial demo recording we've decided we like the format so much we've started intense rehearsals looking to record another ten or so for the first album – watch this space..
June 10, 2015 | Posted in Bands, Recording
It seems to be the season for recording projects! The Toneheadz jazz fusion band are also about to start recording – rehearsals are tricky as we all live a fair distance from each other and are all quite busy, but we are planning a recording session in the near future. We've done some recordings of rehearsals and we're enjoying how it's all sounding so far, we're just trying to book rehearsal and studio time that fits in with our schedules – always a tricky prospect even when there's only three of you to think about!
We plan to get about 4 or 5 songs down to show a bit of variety in what we do, the idea being to get something quickly so we can start getting some gigs. We'll be playing a mixture of covers and original material and are just starting to write more songs as a band.
The band are the rhythm section of Lost in Music – one of the function bands I regularly work with, and we've found we work well together which is how the idea of becoming a band of our own right came about. It's going to be fun to write and record with this band!
March 20, 2015 | Posted in General, Hints and tips, Studio
I've just replaced my main music computer. My ageing iMac was becoming unable to cope with what I ask of it (running Cubase and some video editing being my main concerns) without showing what a friend of mine has called "the rainbow wheel of perpetual patience" after every click of the mouse.
So just after I bought the new machine to replace it I started seeing one of my external hard drives was unexpectedly ejecting itself and showing signs of being in need of replacement too.
First opportunity I had (today) I started copying things off the external drive onto a new one, but already the drive was starting to stop even more often – I have about 250GB on this drive which I wouldn't really want to lose and I was managing to copy about a gig at a time before the drive would shut down. It would spin up, appear in the Finder, I'd grab a few files, it would copy some of them, then it would stop. A message appears on the Mac saying "The disk was not ejected properly" then after a few seconds it spins up again, mounts, appears in the finder then the message about ejecting appears again.
If I switch the drive off for a while I can get a bit of use out of it (about 5-10 minutes) then it starts ejecting again.
A quick search led me to believe that the drive was possibly failing when it was getting hot, so out came the screwdriver and I took the drive out of its case. I stood the drive on its edge (to get the most of the surface area cooling) and directed a desk fan at it. This allowed my about an hour of use before it would get too hot and eject again. So I grabbed the most important stuff first and continued through until I'd copied everything over to the new drive.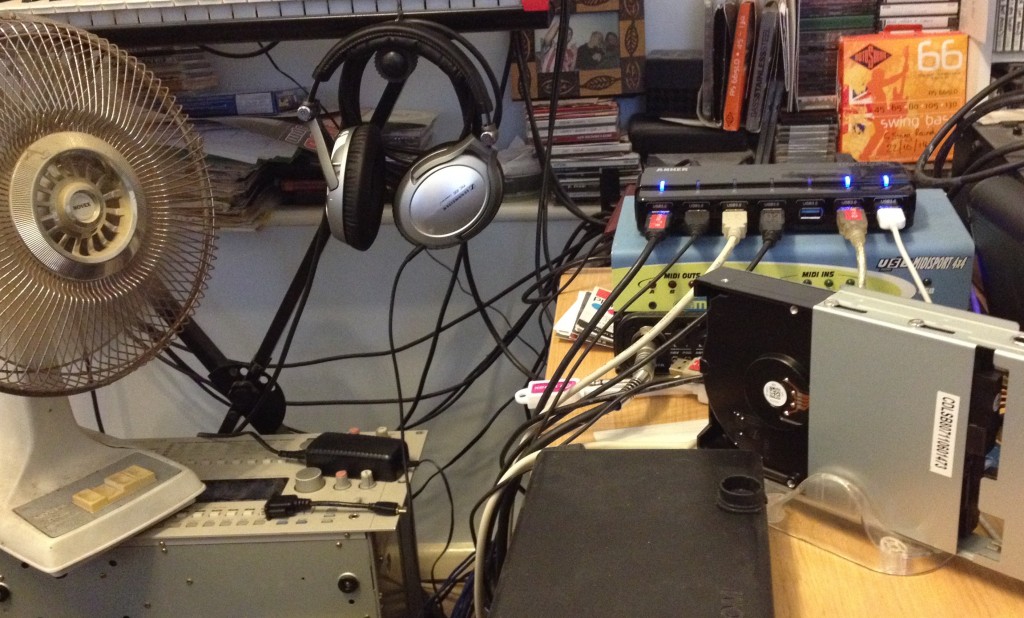 Luckily, I keep backups of everything *really* important but it's tricky (and costly) to keep buying hard drives to keep enough backups (my previous work in IT tells me you can never have enough backups!) so some stuff is sometimes at risk. I'm just grateful I was able to copy everything using my rigged up cooling system – I'd like to think that this tip will be useful for someone else!
January 8, 2015 | Posted in Bands, Joe Carey Quartet (funky jazz), Public Gigs, The Missing Persians
Had a lot of private function work over the last month or so (lots of Christmas parties and works "do"s as you'd expect for the time of year) and not many gigs which are open to the public this month, but there are a couple of public gigs in January 2015 that I can mention:
The Missing Persians at Oxford Folk Club
The Persians will be performing about an hour of original music in a (mostly) unplugged session at The White House in Oxford on Friday 16th January 2015. Doors at 8pm and entry is £5
Joe Carey Quartet the Nags Head in Abingdon
The awesome Joe Carey on saxophones and featuring Rory McInroy on keys, Ben Twyford on drums (and some bass player) at the Nags Head in Abingdon on Sunday 18th January 2015. Music starts at 5pm and entry is free!
Would be great to see you at one or other of these (or both!)
December 6, 2014 | Posted in Public Gigs
I did a gig in a "boutique" hotel in Oxford last night. This should have been an easy gig for me as I live in the area – a lot of my gigs have me traveling all over the country so was looking forward to a quick drive home (and maybe even get a rare chance to see my girlfriend on a Saturday night before she went to sleep).
When I arrived at the hotel (about 45 minutes early) a very helpful member of staff helped me in with my amp and directed me to the area where the PA was waiting to get access to the room. We couldn't go in just yet as the room was still in use from the previous clients (we were told they were being very slow to leave).
Once the room was actually clear we started loading equipment into the lift. The lift was capable of carrying 8 people, although these 8 would need to have very few hang-ups about personal space; it was very cramped! There was only one lift, so we had to share it with guests at the hotel and staff (being a polite band we obviously gave precedence to everyone else first) but although it was tricky, we managed to get everything into the stage area quite quickly.
Once we'd set up we started looking for somewhere to store all the various cases and bags a seven piece band with their own PA and lights might have with them. Again, helpful staff directed us to an area behind the stage and we started moving all the cases here. However, it quickly became apparent that this was not going to be big enough to store our cases and also fulfill its main purpose as a fire exit, so we were given access to one of the hotel rooms and moved all our cases in there.
We played the gig, a good crowd (an American company's annual awards and Christmas bash) made the gig even more fun and come 1am we started to pack down our gear.
It was after we finished the gig and started packing down that we learned that someone had been given "our" room (the one with all our cases in) and was sleeping in there. Apparently they knew we'd be going in at some point during the night and wouldn't mind…
I never really found out who this was, but I'm guessing it wasn't a hotel guest as it's unusual to have to share a room with a van load of drum and guitar cases and PA equipment boxes. A tap on the door and a few moments wait and no answer so we used the key to get in. Whoever had been given our room was fast asleep, so we spent the next 15 minutes tiptoeing in and out carrying our cases as quietly as possible.
If it was you I hope we didn't disturb your sleep! Although seeing as the room was so close to the stage I'm guessing the sleeping person had some very good earplugs…
November 21, 2014 | Posted in Public Gigs
What with working on new original songs with, and trying to organise a tour for The Missing Persians, and fitting that around the various function band commitments that pay for my bread and gruel I've been pretty busy recently, which has meant I've not really been able to find the time to post on here. Not complaining though – it's been a good summer for functions gigs and the pre-Christmas work has been steadily building which means I can look out for projects that I feel like doing rather than just taking whatever comes!
A real mixture of stuff's been coming my way – I've been rehearsing with the small version of the Blake's Heaven Big Band (which might be called "Blake's Seven" or "The Blake's Heaven Seven" or "The Blake's Heaven Funk Project") Whatever it ends up being called, it's a stripped down version of the big band and plays a much funkier set of Nick Blake original tunes. Still a challenge, but something I can have a real connection with – as a bassist I do love playing the funk… Gigs are being booked for early next year and I can't wait!
In a very different vein, I've also been rehearsing with a couple of guys from one of the function bands I play with – we're working on some quite challenging material, featuring music by Tony Williams, The Mahavishnu Orchestra, Joe Satriani, the Chick Corea Elektric Band among others. Some tricky time signatures and rhythms in much of this but we're trying to choose pieces which still have a strong melodic content rather than just play things purely because they're difficult! Still in the early stages but we hope to be doing some warm up gigs soon.
I've started working with a Queen tribute band. Queen had a great bass player in John Deacon – not flashy or flamboyant like Brian May or Freddie, but when you actually listen to the bass lines you can hear some very nice melodic stuff going on. Keeping the groove and doing what should be done for the song but with a lovely flourish just where it's most needed; very satisfying to play. We're also expecting to start gigging early in 2015. It's not one of the "yellow jacket" Queen tribute acts, this band aim to recreate the songs with the fullness they deserve with live musicians rather than slavishly finding moustachioed front men and big-haired guitarists (which is lucky as I don't look much like Mr Deacon).
Talking of Queen, I've also got a few gigs with a new band who have been compared to Queen – I'll be playing with Space Elevator in December and possibly some more dates in the first half of next year. I've worked with both the singer and guitarist before and jumped at the chance to work with them again. They write some cracking songs and their singer The Duchess is as hilariously bonkers as you might have been led to believe!
Most recently the band that was Beelzebozo has been busy again. We struggled a bit this year after our singer decided to give up singing and we had some difficulty finding a suitable replacement. In the end it looks like the solution was right under our noses… We've promoted from within to fill the vocalist spot and could well have found another musician to join the fold and bring us back to being a four piece band again. The sound is likely to change a bit as we develop our style, but we expect to keep some of the old songs so it'll be a progression rather than a brand new band. At the moment we're thinking of it in terms of Beelzebo2.0
Of course, the biggest challenge of 2015 might be fitting it all in – if I get a bigger diary do you think this would help?