November 30, 2016 | Posted in Bands, Public Gigs, The Missing Persians
Just finished a nice little tour with The Missing Persians, the bluesy americana type band I play with. We first toured the Netherlands in 2015 after a Dutch musician/promoter saw us playing at an Oxfordshire festival (one of our first gigs) and we had a great time and couldn't wait to go back.
This time we had four gigs over 6 days, so not particularly gruelling, but we still covered a fair few miles in the trusty band van. I've been to the Netherlands a number of times, both for holidays and for music, and I've always found the Dutch to be a particularly lovely nation – and they speak such good English it hurts!
We played a variety of venues (the rock pub with the DJ playing music so loud that our fillings were rattling while we were setting up was a bit nervewracking!) but all gigs went down well and we sold some CDs and made some new friends. Touring a relatively unknown band can be a risk/folly/quick way to lose money, but both Persians tours managed to return a profit after all the expenses were covered, and have been a lot of fun!
Next year we'll be concentrating on the UK and are working on securing a few more festival gigs, so let's hope we get some nice summer weather in 2017!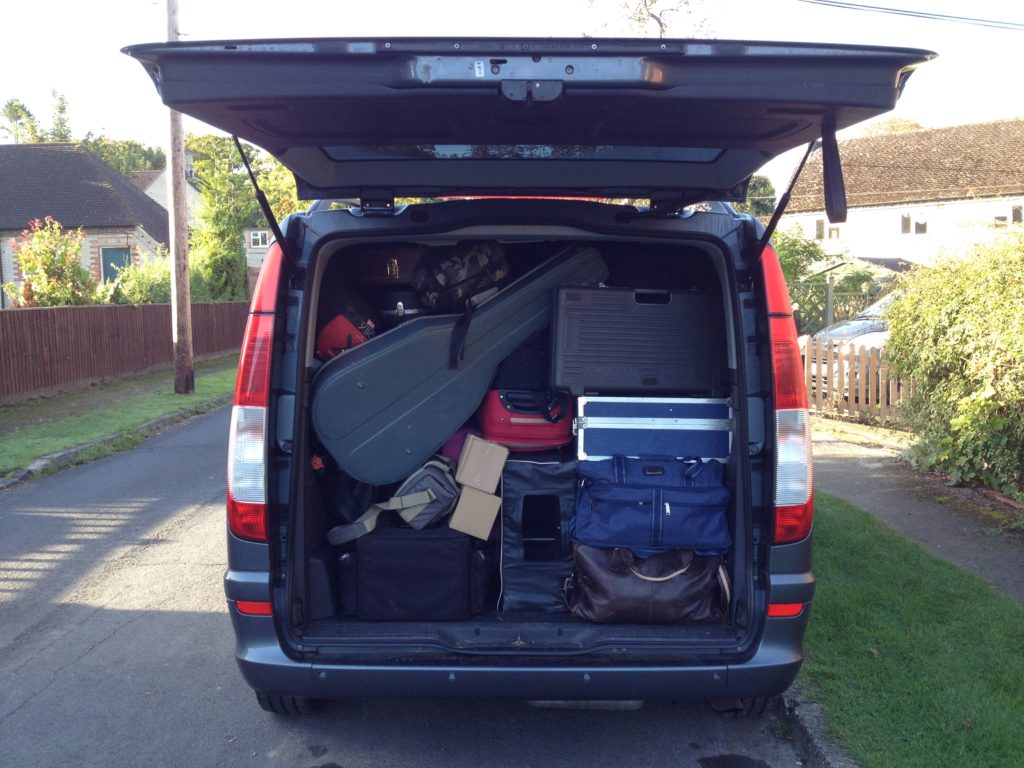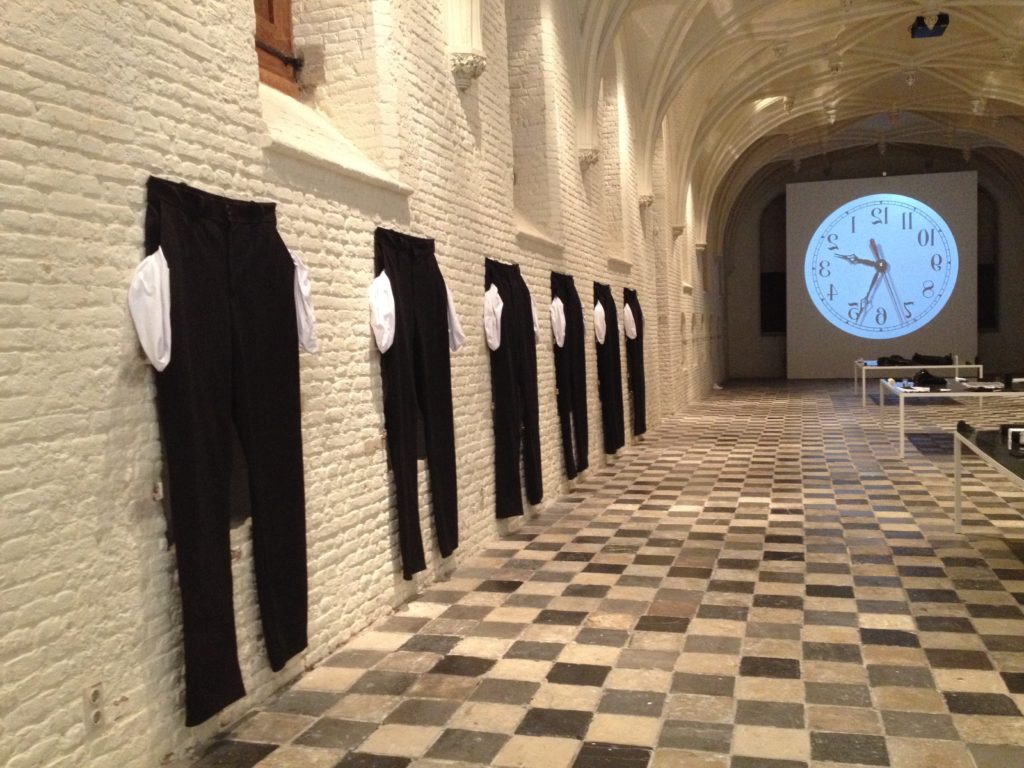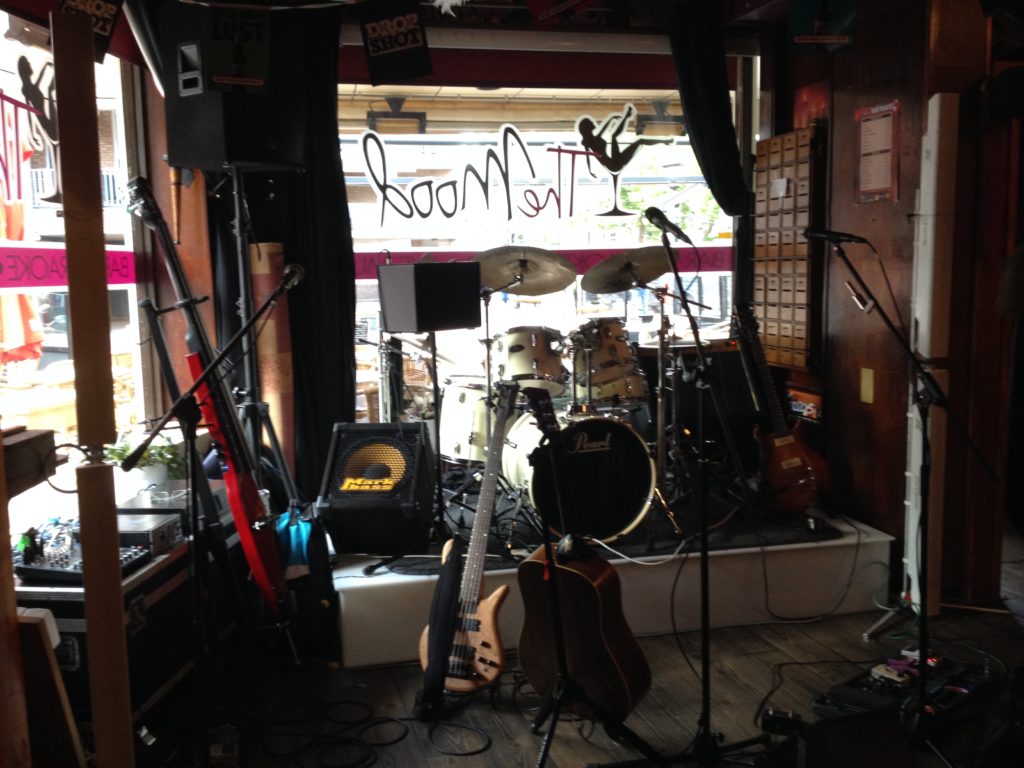 December 10, 2015 | Posted in Bands, Hints and tips, Recording, Studio, The Missing Persians
I started writing this post when we'd booked some time together to begin recording the Missing Persians second album – I then saved the draft.
I'm typing the text you're reading now when we're about halfway through the recording process. We're doing it slightly differently this time, but still recording it ourselves and still using Reaper (I'm actually a Cubase man, but Reaper was chosen as a lower cost option which would allow us to take a PC to our own houses to record individual parts without me having to give up my main computer, or getting everyone in the band to invest in Cubase!) Reaper has some idiosyncrasies which I'm not sure I like, but all in all it works quite well.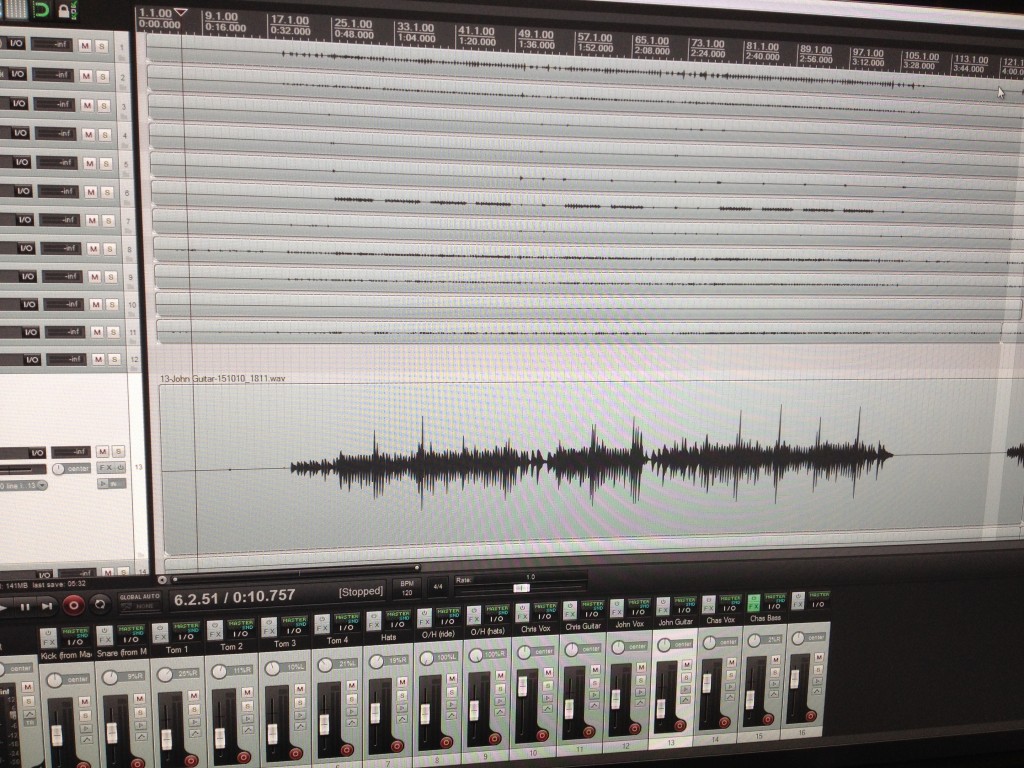 Learning from our previous experience…
Last time we recorded pretty much everything live except for guitar solos and vocals – but as we didn't have enough inputs on our sound interface we mixed drums down to a stereo track before going into the computer. This worked OK for most songs, but one or two were discarded due to problems with the drum mix which we obviously couldn't do anything about afterwards. We also had a certain amount of bass and guitar spill on the drum tracks which wasn't ideal. When I came to mix we had to lose a number of good recordings due to missing a crucial problem with drum sounds or a balance issue, so this time I wanted to do it slightly differently.
We still wanted to keep it as live as possible to capture the feel of the band, but we also wanted the flexibility to fix errors and change our minds about things after the event. So we compromised a little – this time we managed to get all the drum tracks on separate channels (to help with mixing) and we only recorded bass and drums together, with guide guitar and vocals captured on lower quality line in channels (just so we had some sort of context for overdubs.)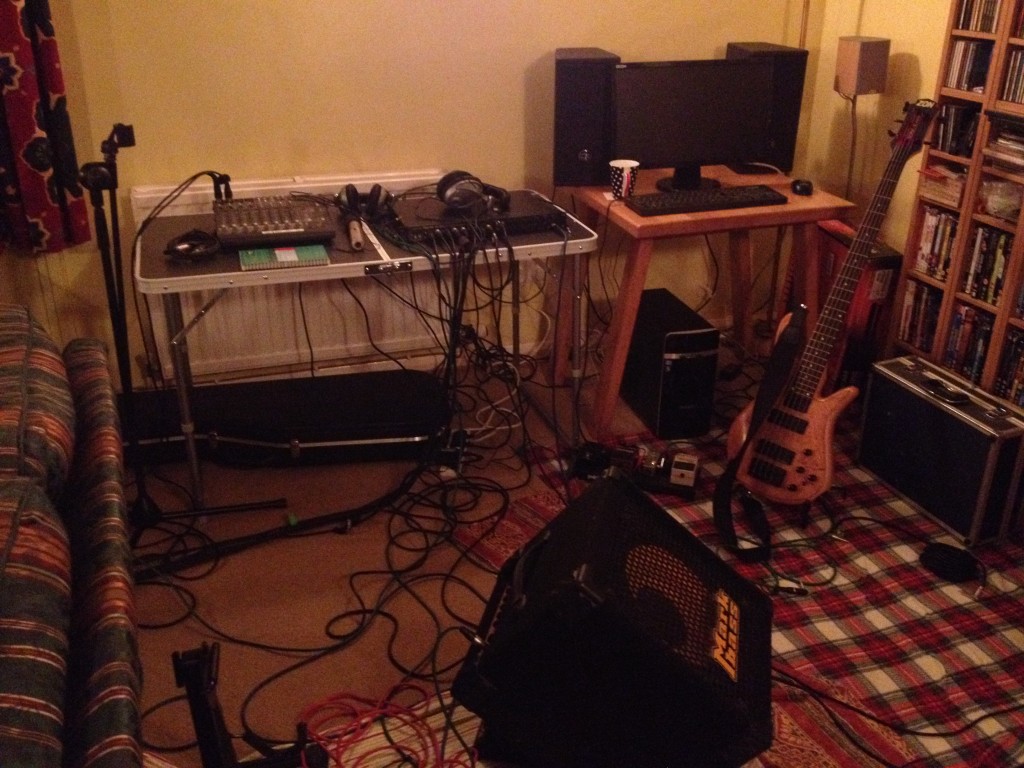 We used the sofa as a sound barrier to avoid hearing bass guitar on the drum tracks. Bass was DI'd out of the back of the amp, so no spill the other way round. The output from John's effects was plugged directly into a Line input and we only used it for a guide. We'll capture the sound of John's amp when he overdubs later.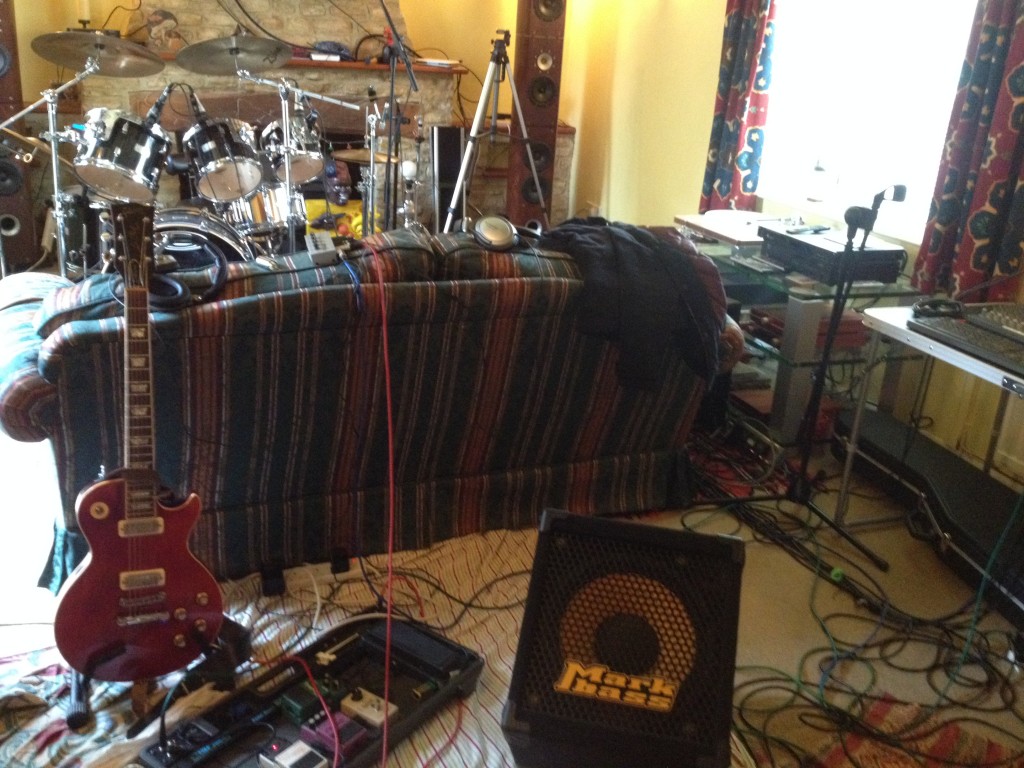 Recording the acoustic guitar separately also gave Chris chance to recover from his broken wrist – sustained on the last day of his holiday shortly before we started recording the album (you can see him manfully struggling on despite being hampered by the cast in the photo below!)
The glass door in Nick's house was perfect to allow us to keep eye contact but keep separation so no acoustic guitar (that loudest of instruments!) spilled onto the drum tracks…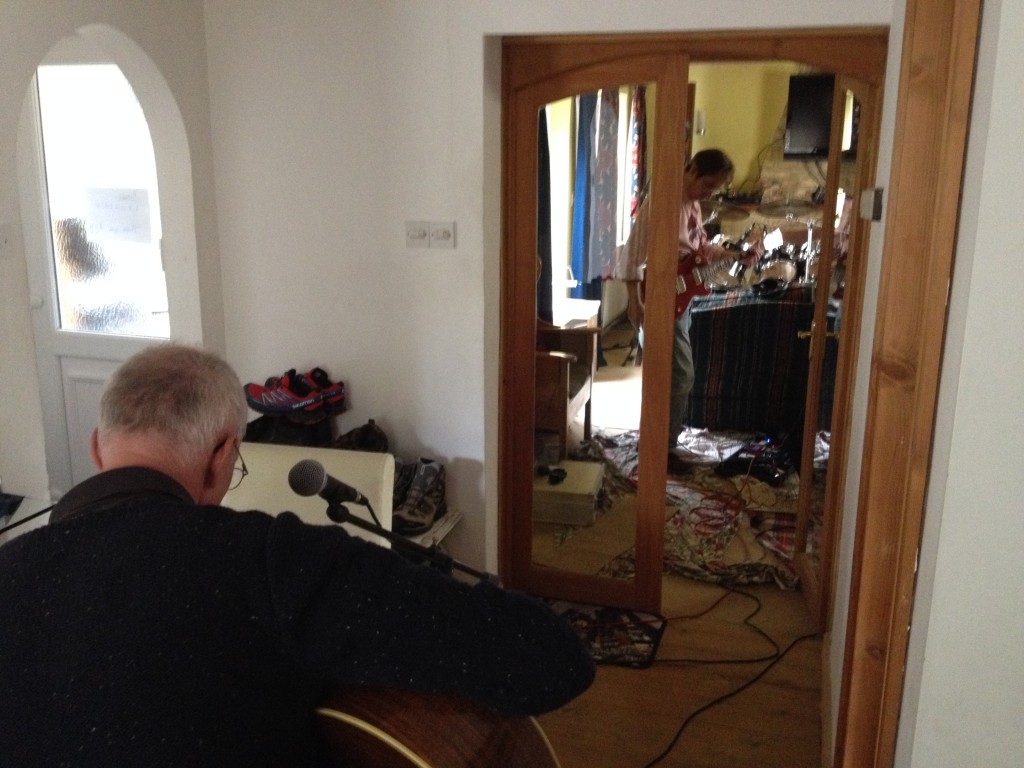 This process is working well so far – we recorded bass and drums at our drummer Nick's house, and then Chris has taken the PC and is recording his vocals, acoustic guitar and mandolin at his own pace (now that the cast is off he is finding this much easier!) Electric guitar and vocals are being added in the coming weeks.
Based on what we've recorded so far it's coming along well. We recorded 19 songs in total and will choose the best dozen or so to create the finished product. It will be available via our website the Missing Persians Bandcamp page (copies of our first album can also be purchased here)
January 8, 2015 | Posted in Bands, Joe Carey Quartet (funky jazz), Public Gigs, The Missing Persians
Had a lot of private function work over the last month or so (lots of Christmas parties and works "do"s as you'd expect for the time of year) and not many gigs which are open to the public this month, but there are a couple of public gigs in January 2015 that I can mention:
The Missing Persians at Oxford Folk Club
The Persians will be performing about an hour of original music in a (mostly) unplugged session at The White House in Oxford on Friday 16th January 2015. Doors at 8pm and entry is £5
Joe Carey Quartet the Nags Head in Abingdon
The awesome Joe Carey on saxophones and featuring Rory McInroy on keys, Ben Twyford on drums (and some bass player) at the Nags Head in Abingdon on Sunday 18th January 2015. Music starts at 5pm and entry is free!
Would be great to see you at one or other of these (or both!)
July 21, 2014 | Posted in Bands, Hints and tips, Recording, Studio, The Missing Persians
After about a year of rehearsing and gigging, The Missing Persians decided to record their first album. It was released (or as our singer/songwriter Chris likes to say "escaped") on Saturday 19th July 2014 at our Thamesfest performance – you can also hear and/or buy it from The Missing Persians Bandcamp page, either as a digital download or a physical CD.
We've all paid good money for recording time at studios, but there is something about the clock ticking away which can change the mood of a performance. Some people cope with the pressure better than others, but it only takes a technical problem with an instrument and you can lose a whole morning. That time has to either be paid for, or you are going to have to compromise on how much time you have to mix.
As we all had some previous experience with home recording, we recorded and produced it entirely ourselves (with a couple of exceptions in the last stages). I'm pretty pleased how it turned out, so I thought I'd note down some of the things we learned:
You can record your band yourselves in your home studio

Admittedly, we did have a rather motley selection of microphones that we'd all gathered over the past 20+ years of being in bands, but most of these were good ol' Shure SM58s. Not hugely expensive, but robust and decent quality. Vocal mics were Seinheiser. We set up (two guitars and one bass) in our friend JJ's living room, with the drums set up in an adjoining room. The drum room was padded a little with duvet/sleeping bags to reduce some of the echo of the room, and I set up in the doorway so Nick and I could have eye contact while we were recording. We also had a set of drum mics which cost about £200. One contraversial thing we did was use a small mixing desk to mix the drums down to a stereo pair. This was done because we only had 8 inputs in our sound card, and we did live to regret this choice as we were unable to use a few takes because the drum mix had changed at some point without us noticing. The whole lot went into a reasonable spec desktop PC running Reaper – I'm more of a Cubase fan myself, but Reaper didn't take long to learn how to use and was a cheap, useable solution (we did it this way as a) we couldn't fit in my small studio at home and b) I didn't want to move my studio 25 miles up the road while we recorded the album).

Choose the best overall performance rather than the fewest mistakes

We wanted to have a "live" sound, so we recorded the songs pretty much live (without vocals), then did a few overdubs for vocals, guitar solos and fixes. Often there was a really good sounding take (but with a number of mistakes) versus a slightly less exciting take which was note perfect. I'm sure it's always better to choose the one that sounds liveliest and try to fix it, rather than choosing one that's "technically" correct but doesn't have the feel. Listen carefully to some Beatles or early Bowie on some really good headphones and you can hear things which were clearly mistakes, but recording again might have never got the same feel as the version that made the album.

Take a long time over the mixing process

I don't mean take months over it, but if you've not done much of this before you need to accept that to get the sound right you are going to have to do a lot of experimentation. Listen to the song and keep gently refining it. Remember everything you hear affects everything else you hear (we kept using the phrase the "three stooges affect" where it sounded like everything is trying to get out of the same frequency range in the speaker). We all took turns at rough mixes and some of the first attempts were quite surprising (not always in a good way!) We explored how to control levels of instruments with a little compression (to make the louds not SO LOUD) and then use EQ, volume and panning to find space in the speakers for everything to sit. In the end, it worked out best for one of us (somehow the job fell to me) to sit in a room and work on the mixes, then share (Dropbox) works in progress for comment (digital recording means you can keep multiple mixes – just remember to name them sensibly so you can tell which is which!) We then got together at mine for final tweaks just before we finished the mixes.

Once you think you've got the mix right, listen to it on as many devices as you can.

Just stands to reason; you don't know what people are going to listen to it on (earbuds, audiophile equipment, massive PA, laptop speakers) and you should try to make it sound as good as it can on all of these. You'll be surprised how the bass can overpower some systems and be completely missing from others.

Pay someone else to master it

Just because you know how to play an instrument, and know how you want your songs to sound, it's tempting to look for some digital software with a "Make it sound awesome" button on it. I don't think that's going to happen; just spend a few hundred quid on getting someone trusted to have a listen with their ears. You may be amazed at what they pick out that you hadn't noticed, and it will sound all the better for it. We used Tim Turan in Oxford and I think he was worth every penny.

It will cost more than you think

Even doing most of the job ourselves, it did cost us quite a lot of money (£2000+) to produce 500 CDs (PC, audio card, microphones, mastering, duplication) but recording at a studio would have meant we couldn't have done it over the course of several weeks, couldn't have decided after listening back to rough mixes that a particular song didn't have the feel and let's do it again, and couldn't have experimented quite so much with sounds and overdubs. We were also able to stay relaxed through the whole process, and I think that was one of the most important factors in making music we are proud of.
March 2, 2014 | Posted in Bands, Recording, The Missing Persians
Over the last few weeks we've been recording songs which we hope will become our first album.
JJ (our friendly PA man) has proved himself to be one of the most generous men in the world by letting us set up base in his house to record. This has meant drums in the spare bedroom, guitars and bass amps in the hallway, and the control room in the lounge.
So far we've recorded about 20 tracks and have been doing the overdubs and fixes by each of us taking the PC home to repair the little niggles. We don't want to make it too perfect and keep the live sound of the band (which was the whole reason for recording as much as possible "live") but just doing a bit of polishing. There's nothing worse than getting to the finished product and finding you can't listen to a particular track because there's some glaring error in your playing (even if no one else can hear it!)
The trouble with Digital
The computer's just arrived at my house and I'm going to make my first pass at mixing the tracks to see what we've ended up with – unfortunately something about the journey between the drummer's house and mine didn't appear to agree with the PC as it wouldn't boot up without some panic and fiddling about (guess how many backups we had of the songs…?) When I tried to start the PC the Windows logo appeared, with the words "Starting Windows" displayed reassuringly below, then the black screen and mouse pointer, then… no, nothing else happened. I could move the mouse pointer around the black screen but nothing else happened.
After a bit of a search online it appeared that black screen errors are a bit difficult to diagnose – so I restarted the PC again and before the Windows logo appeared I waded in with a bit of F12 action, looking for Safe Mode, but found the Windows Repair option. It said it could try using a recent restore point to try to get the system up and running again. Why not? I thought. Nothing to lose (except for the weeks of work and the friendship of my bandmates)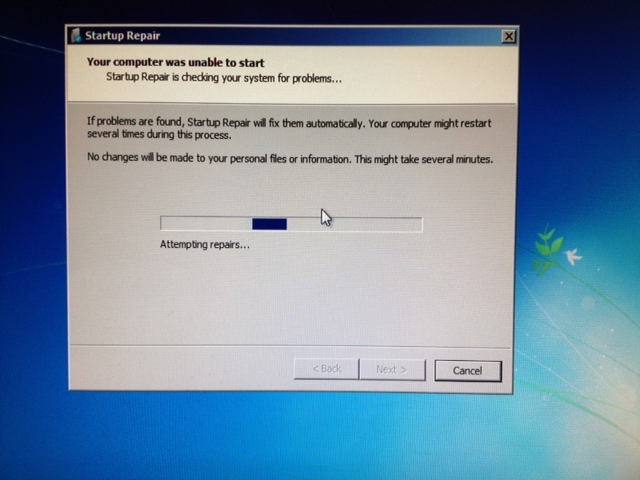 Fortunately, the PC let me log in after going through this process (even though it got to the end and reported that the repair was unsuccessful) so my first job before making any further changes is backing up! This it proving to be quite time consuming which is at least partially due to my studio being Mac based and the Persians' studio being on a PC (and not even on the network to share drives).

As the process is copy a handful of songs from the PC to a 16GB memory stick, then copy from the memory stick to my Mac's external drive, I'm guessing I should be ready to mix by the end of June…
December 13, 2013 | Posted in Bands, Hints and tips, Public Gigs, The Missing Persians
One of the joys of working with The Missing Persians is that I get to do a lot more singing in the band than others where I just concentrate on playing the bass guitar. I've always been willing to step up to the mic for a bit of backing vocals (I tend to default to a third above the melody) but this has always been a bit of an "added extra" rather than the main event.
The Missing Persians, however, require a bit more concentration as many of the songs call for three part harmonies. This is good fun when they go right, but does have a tendency to highlight any inaccuracies on my part! Infact, backing vocals are largely a case of watching the singer and making the same kind of noises they do, and I find the actual lyrics are not quite as important as singing the same words as the main vocalist – if they start singing the wrong chorus hardly anyone is going to notice as long as you are all singing the same thing.
My usual method for learning lyrics (certainly when it's more than just joining in on the chorus) used to be relying on lyric sheets in front of me, until the words just sort of get absorbed into the memory accidentally. Trouble is, this method can take rather a long time because if the lyrics are there, you'll read 'em rather than learning 'em!
I recently had to learn lead vocals for a cover of Sweet Gene Vincent by Ian Dury and the Blockheads. If you don't know the song it has a fair number of words in it, and there's a bit of twisting and turning. There are two similar sections where the vocal is very prominent and Ian spits the words out fast and furious:
"White face, black shirt, white socks, black shoes – black hair, white strat, bled white, dyed black"
"Black gloves, white frost, black crepe, white lead – white sheet, black knight, jet black, dead white"
As you might imagine, it's easy to end up singing about white hair and black frost or even making up nonsensical words while you stumble over your own teeth…
First off I tried simply singing along to the song repeatedly to learn them, but as soon as I tried it in rehearsals with the band (without Mr Dury accompanying me) I found I was still floundering. I'd sometimes completely lose my place and have to "nah nah nah" until something I could get a grip on came back to me. So I did a couple of gigs with the lyrics just on the floor next to me, but that just meant I was looking at the ground between each line, whether I knew the next words or not!
One thing I had noticed from telephone conversations (stay with me) was if someone called for my girlfriend and I wrote down a message, 9 times out of 10 I remembered the message without finding the bit of paper, so I wondered if the act of writing the words down actually helped the memory (it turns out there's quite a lot of research on the subject suggesting that it does just that).
So I wrote down the lyrics from memory, using a pen and piece of paper (as opposed to typing into a Word doc) then looked up the lyrics again online to fill in the blanks. Turns out I remembered most of them, with just a couple of words wrong. I then wrote them out from memory once again without any problems.
For the next couple of days I sang the lyrics to myself whenever I had a moment (sitting in traffic for example) and was able to remember them much more easily. Even better, when I got to rehearsal the words were just there in my mind without searching for them or getting panicky.
On Saturday I'll find out how I do in the gig (no cheat sheet, no safety net!) when the Missing Persians play at the Florence Park Community Centre in Oxford (shameless plug for public gig!)
July 28, 2013 | Posted in Bands, Double Bass, The Missing Persians
After only a few weeks rehearsal, I had my first gig with The Missing Persians the other week at the Talbot Inn in Eynsham, and very good it was too! A couple of hours of playing with some really good musicians in a style I don't really get anywhere else – I had a great time, and can't wait for the next one. The upright bass got a rare outing, and let me show off some of the work I've been doing on my technique over the past few months.
I'm self-taught as a musician, and when I got the electric upright (double) bass I simply figured I'd apply the same concepts to this as I had to everything else I play; that is to dive in there and work it out as I go along. Well, although it's technically possible to play upright bass like a fretless bass guitar which you hold upright (as the name might suggest), if you're going to play for more than a few minutes at a time it really requires a completely different approach. The main difference to the way you play the thing isn't really the fact that it's fretless, or that it's upright. It's the fact that the strings feel fatter and heavier, and therefore require a lot more effort to push them down to create a note. As I'd already gone through a similar process with guitar and bass, I guessed that I just needed to keep working at it and eventually I'd gain more strength in my fingers and be able to play for longer.
Luckily, in a conversation at a gig with the drummer, I spoke about this and he recommended I went to see Tim Dawes in Oxford for some pointers. He took a look at my "technique" and told me that using the "one finger per fret" bass guitar method I was putting too much strain on my knuckles and could end up with arthritis. Not good for my hopes of playing long into old age. What was good was that he was able to quickly show me the "bassics" so that I was able to adapt my style when playing the upright bass.
In a nutshell, whereas with a bass guitar (or guitar) you tend to have a one finger per fret grip on the neck, with the upright bass you sort of add another finger to the string as the note you want to play gets higher, and treat the ring finger and little finger as one. This means only playing three notes before you need to shift the position of the hand.
While this is a bit of a tricky shift to get into for someone who's been playing bass guitar for over 30 years, I'm already noticing that my left hand isn't as tired as is was when I was trying to play it like an upright, fretless bass guitar and when people look at me playing they'll think I'm an experienced double bassist! (At least that's what Tim says)
You can see how accomplished you think my technique is at the next Missing Persians gig at the Famous Monday Blues tomorrow night! (http://www.famousmondayblues.co.uk/)