Monaco – Hotel House Band
This month I have mostly been playing in a hotel band in Monaco. It's been both a very interesting and eye-opening experience!
We're playing for 14 nights, between 7.30pm and 1.30am – so I've had to learn 130 songs for this band, all in unusual keys to suit the singer. It's been a bit of a challenge, transcribing and transposing so many songs, but it just happens that most have been reasonably simple from a bassist's point of view, so not unachievable…
Monaco is strange. I've played here before (at a different hotel) but was only staying for one night on that occasion, so didn't have much chance to look around. Monaco strikes me as a very superficial place; everything appears (to my uneducated architectural eye) to have some of the classic styling you'd expect from a European city, but the buildings seem very clean and new, and almost like they've just been built to order but are missing some heart or soul. Can't quite put my finger on it, and maybe it's reverse snobbery from my part.
The Monaco Grand Prix was here a couple of weeks before we arrived, and it's been interesting seeing the road being resurfaced from racetrack to street, and seeing the terraced seating being dismantled. It must be very disruptive to do that every year.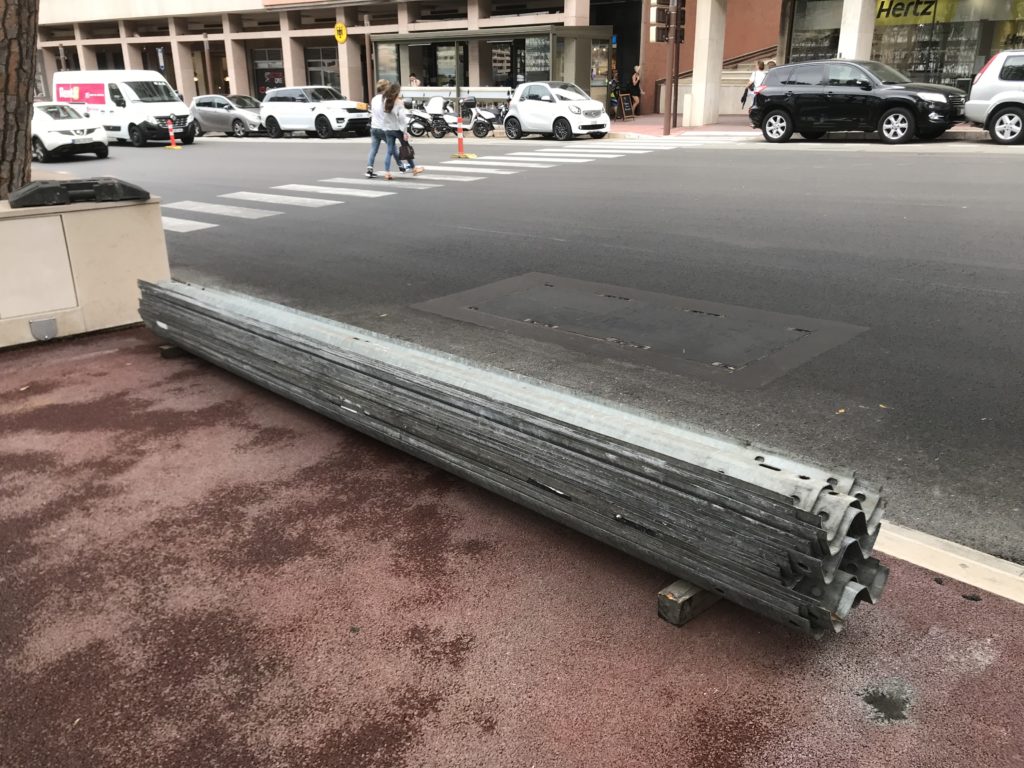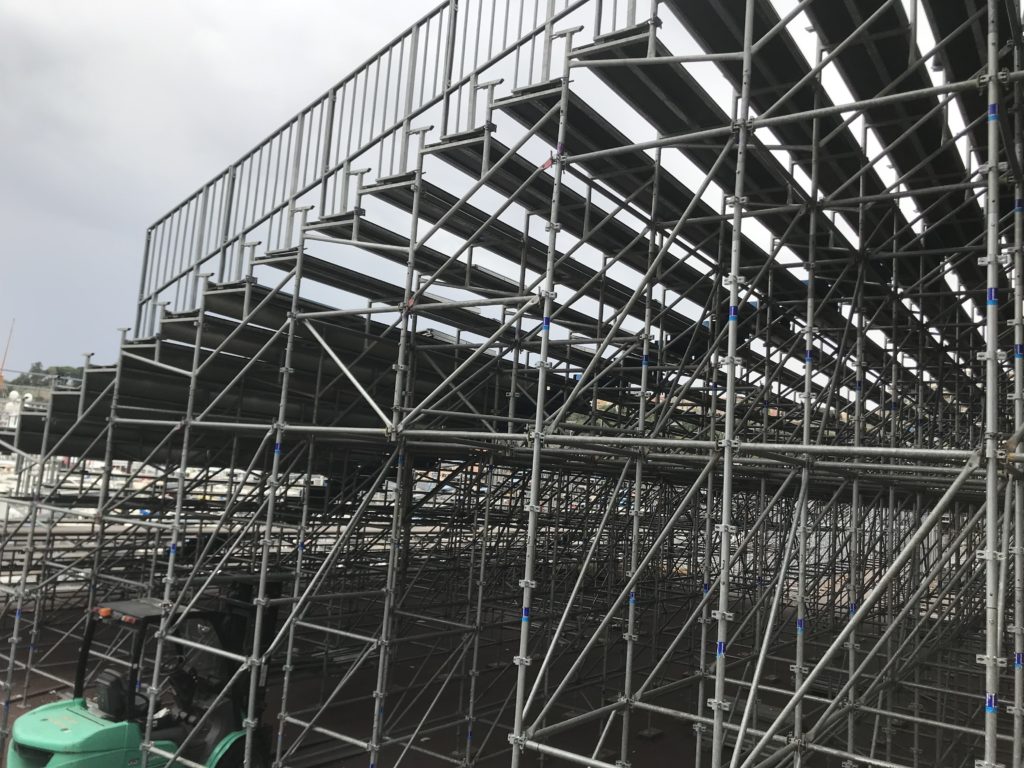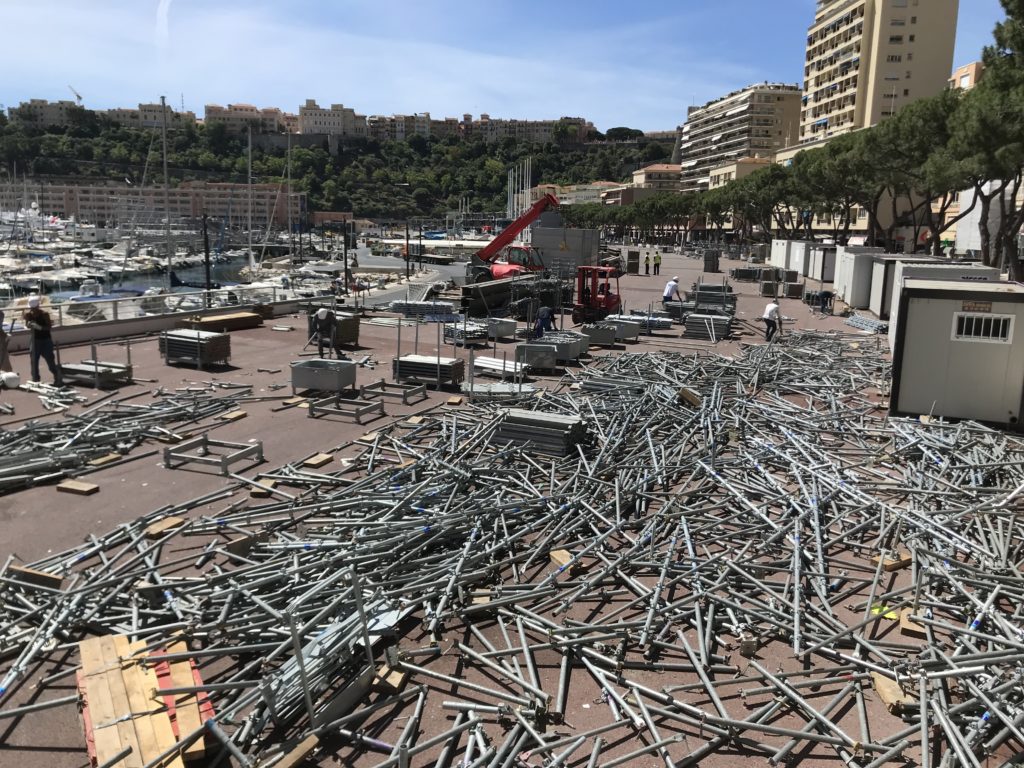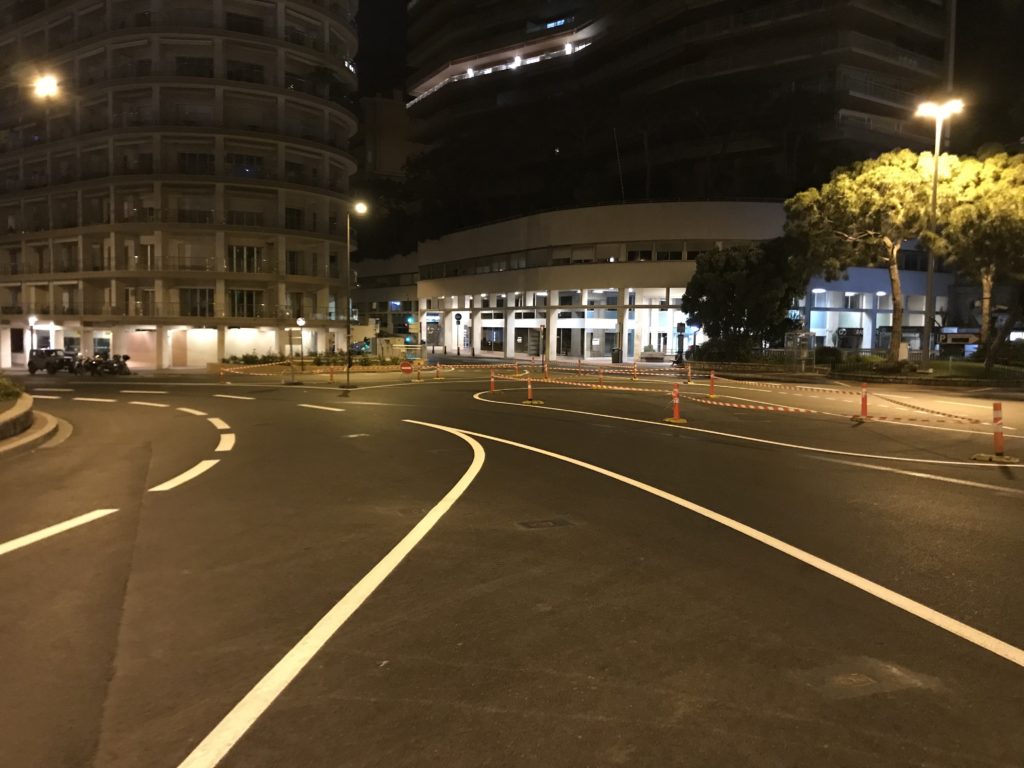 A lot of the people you see here are wearing Armani or Gucci and driving Ferraris or Lamborghinis (or being chauffeured), but if they speak to you there's something missing. I think we are just interested in very different things.
One of the visitors to the hotel bar very kindly offered us a lift home to our (much more humble!) hotel on the first night, and as he was driving us back he said "I'm not a litigious man, but I've sued five people and won them all." He then went on to tell us some more details about one of those lawsuits involving a film star and I stopped listening…
We're not really supposed to mix with hotel guests, but also we're not supposed to refuse drinks they might buy us, which can be uncomfortable/awkward for me, especially as I don't really drink. Never quite knowing where you fit in. The millionaire set is certainly not my natural habitat!
The band are sounding OK. We're playing a set of jazz (piano trio) for the first set, then some mainly jazz and soul vocal tunes for the next hour, and building it up to some more danceable numbers for the final hour, but although there's a setlist, we're mainly reading the room, and taking requests. We've busked our way through a few on-the-spot requests that only half the band really knew…!
Playing 5 or 6 hour sets is quite tiring and after 10 days of it I admit I am looking forward to my own bed! The audience varies a lot from day to day – some are hotel guests, some are Monaco residents, some just tourists popping by, but as some of the drinks are literally hundreds of Euro each, they do usually have one thing in common!
The hotel had a sign in our band room forbidding social media and photos, which I expect is to try to offer some privacy to some of the more well known clients of the hotel (a very well-known band were having a drink in the bar last week – we decided not to play any of their songs at them as it could have been embarrassing…) They didn't stay long (they were just having drinks before going into the hotel restaurant) but they were very pleasant; a little applause between songs and saying a few appreciative words to us on their way out. I thought that was nice, and more than they needed to do, but one of our band was a bit annoyed that the singer hadn't left us a huge tip "That guy's worth millions, he could have given us a bit of it…" I'm confused by this – I mean, do we deserve a tip more because a member of the audience is a millionaire, or because we do an outstanding job (I mean, we played OK, but this guy has sold a gazillion records and performed all around the world on the same stages as Paul McCartney, Queen, Elton John, Led Zeppelin, Sade… I'm surprised he even bothered to notice us!)
Anyway, a few more nights to go, then I'm on my way home. I'm really enjoying the gigs, but it's always nice to get back home.