March 2, 2014 | Posted in: Bands, Recording, The Missing Persians
Over the last few weeks we've been recording songs which we hope will become our first album.
JJ (our friendly PA man) has proved himself to be one of the most generous men in the world by letting us set up base in his house to record. This has meant drums in the spare bedroom, guitars and bass amps in the hallway, and the control room in the lounge.
So far we've recorded about 20 tracks and have been doing the overdubs and fixes by each of us taking the PC home to repair the little niggles. We don't want to make it too perfect and keep the live sound of the band (which was the whole reason for recording as much as possible "live") but just doing a bit of polishing. There's nothing worse than getting to the finished product and finding you can't listen to a particular track because there's some glaring error in your playing (even if no one else can hear it!)
The trouble with Digital
The computer's just arrived at my house and I'm going to make my first pass at mixing the tracks to see what we've ended up with – unfortunately something about the journey between the drummer's house and mine didn't appear to agree with the PC as it wouldn't boot up without some panic and fiddling about (guess how many backups we had of the songs…?) When I tried to start the PC the Windows logo appeared, with the words "Starting Windows" displayed reassuringly below, then the black screen and mouse pointer, then… no, nothing else happened. I could move the mouse pointer around the black screen but nothing else happened.
After a bit of a search online it appeared that black screen errors are a bit difficult to diagnose – so I restarted the PC again and before the Windows logo appeared I waded in with a bit of F12 action, looking for Safe Mode, but found the Windows Repair option. It said it could try using a recent restore point to try to get the system up and running again. Why not? I thought. Nothing to lose (except for the weeks of work and the friendship of my bandmates)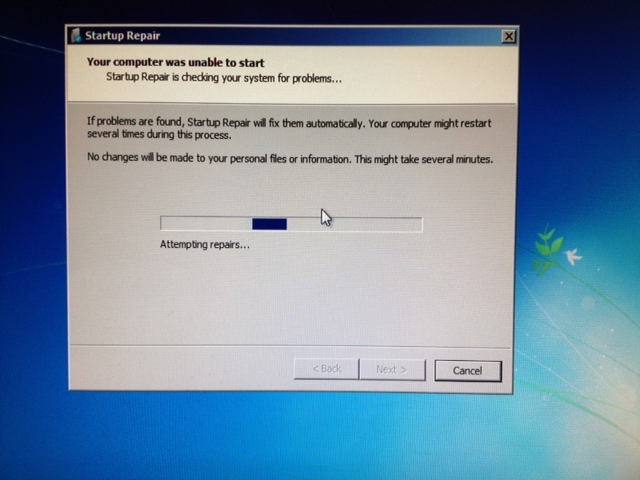 Fortunately, the PC let me log in after going through this process (even though it got to the end and reported that the repair was unsuccessful) so my first job before making any further changes is backing up! This it proving to be quite time consuming which is at least partially due to my studio being Mac based and the Persians' studio being on a PC (and not even on the network to share drives).

As the process is copy a handful of songs from the PC to a 16GB memory stick, then copy from the memory stick to my Mac's external drive, I'm guessing I should be ready to mix by the end of June…